Ratan Tata admits selling Nano as 'the cheapest car' was a mistake; keen to invest in start-ups that reach the common man.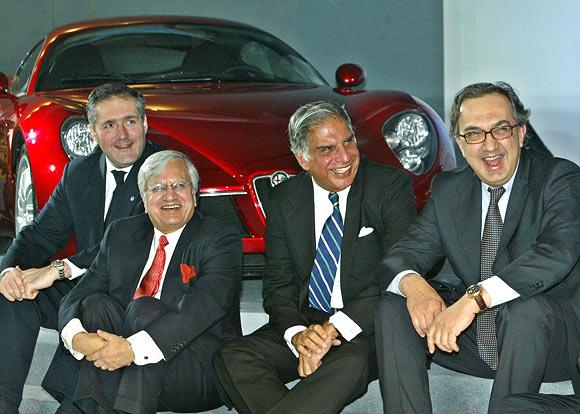 Tata Sons Chairman Emeritus Ratan Tata, a veteran industrialist-turned-investor who has over the past three years put his money in at least 10 companies, most of those e-commerce firms, calls himself a "fledgling" in the e-commerce and start-up areas.
Tata, who had been the chairman of the $103.27-billion Tata group for over two decades, says India today is seeing the same kind of entrepreneurship wave as the US had in the 1970s and '80s.
In Chennai on Wednesday to participate in the 11th convocation of the Great Lakes Institute of Management, Tata also admitted the greatest mistake in the Nano car's marketing was branding it as the cheapest car.
It would have been better to call it the most affordable one, he said. On his new innings as an investor, Tata said he was keen to invest in ventures that reach the common man.
He added all he expected were reasonable returns and a satisfaction of having supported a company that would help the country.
Speaking on the sidelines of the convocation, Tata said India was a country with a diverse population; the normal brick-and-mortar retail structure could not get to all areas and cater to the entire population. This was why e-commerce and e-retailing came in and enhanced reach, he said.
"I think there is a great potential, it is just starting to get tapped," said Tata.
He, however, added that valuations of e-commerce companies were very high and there were fears these might soon reach their peak. This was a concern, he said, because the sector had not reached its full growth potential yet.
"I am a fledgling in the e-commerce and start-up support areas. I am not big enough in these segments to make statements.
I am learning, perhaps more than anyone else," Ratan Tata said.
On companies he would like to invest in, he said he would prefer those that reached the common man - enterprises related to health, woman empowerment, access to internet, etc.
"Things have changed a lot. I am interested in supporting anything that seems to have the potential of changing India."
Tata, whose latest investment was in Ampere, a start-up that produces electric two-wheelers and three-wheelers from Coimbatore.
This was his first investment in an automobile company. He said electric vehicles were serving to move away from polluting cities; these were a relatively untouched area and deserved a little bit of support.
Asked whether start-ups needed nurturing, Tata said he was not an angel investor. "It is important to nurture them; it's important to support them.
Not all start-ups are going to be successful. The creative ones usually face the greatest problems in finding support, because they are doing things others have not done before.
Such ventures - the promising ones - need to be nurtured." Tata told reporters: "The environment (to do business) is not worse than it was earlier, but I think it can be even more vibrant than it is today - that's an opportunity, not criticism." Tata's advice to entrepreneurs was that they should have a sense of responsibility.
Collecting funds from investors after selling a concept and then walking away if it failed was an insensitive way to look at business, he explained. "These are the kinds of judgement you make when you meet the founders - what their level of commitment is; will they just walk away at a particular time after making gains, or will they be committed to staying and building an enterprise?"
Tata also said India was poised to go into a new era of growth which, unfortunately, was tapering off for a while. The capability was there but needed government support, he added.
Image: Ratan Tata with the Tata Motors team at the 8th auto show in new Delhi.
Photograph: Kamal Kishore/Reuters