'But I have an authority letter and all the ID proofs and...' I pleaded.
'Authority letters don't work for exchange, you can deposit the cash.'
I stepped out of the line, feeling more dejected than when Ranbir Kapoor gets turned down by a girl before coming of age in all his movies.
Paloma Sharma -- the only non-middle aged, non-canine member of the home -- on a Sunday spent at the bank.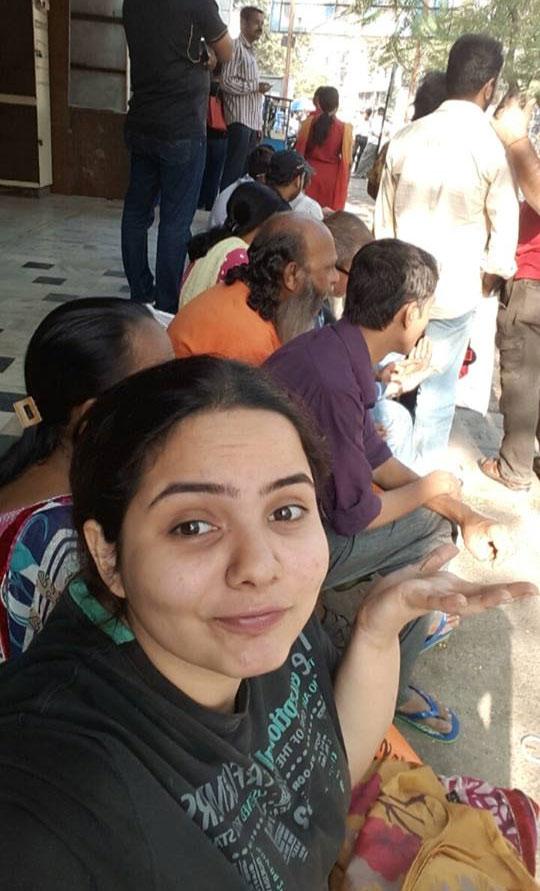 At 8.19 am this Sunday, armed with a bundle of five hundreds and about four different types of ID proofs, I sleepily dragged my feet to the back of one of the lines outside Axis Bank's Mira Road branch #573.
It had been a long time since my mother had packed me a bag with a water bottle and a tiffin full of parathas, but the occasion demanded it.

Ever since the night that the nation's prime minister Shri Narendra Modi announced that currency notes of Rs 500 and Rs 1,000 were no longer legal tender, the length of the lines outside banks and ATMs has multiplied at a rate that would make rabbits jealous.

Although I am a mobile evangelist and believe in doing all my assigned chores (such as buying vegetables, paying bills etc) from the couch at home, it wasn't long before the need for cash arose.
Ola and Uber, while great apps for long distances, wouldn't take me to the train station for Rs 10; and Big Basket certainly wouldn't deliver half a kilo of rice and some fruit.
As much as I would have liked to Paytm karo, ultimately it turned out that cash was king.
An unreasonable king, at that.
Being the only non-middle aged, non-canine member of my household made me the obvious 'volunteer' to stand in line at the nearest bank.
So there I was, spending my Sunday morning with about a hundred other strangers -- a hundred restless faces that stared into the closed maroon shutters of the Axis Bank.
There were about thirty people ahead of me, and by 9 am another ten appeared behind me.
Heads with silver hair, which gleamed in the mild winter sun, turned to look at the cool marble platform that arose from the grimy sidewalk upon which the imposing structure of the bank rested its weight.
Slowly they began to give in and take a seat. The younger ones held on for a while longer, but by 9.30 all pride of youth had melted away -- along with the muscles in our legs -- and almost the entire line gave in.

A soft murmur had begun to arise, "When are they going to open? They should have been here by now."
Documents were being double checked now. Children and young men who had come with their families were being made to run to the nearest stationery shop to buy pens and get photocopies of Aadhaar and PAN cards.

The front of the line shuffled uneasily, pressing itself closer to the door and like a reverse Domino Effect, from the beginning to the end, every single person jumped right to their feet.

Something was happening. The bank employees had arrived. Hope sparkled in everybody's eyes.

A few minutes past 10, two ladies with their employee IDs strung around their necks began distributing forms outside the bank and attending to every individual's questions about the procedure.
When my turn came, I showed her the pre-filled form I was carrying. It was in my mother's name with her account number on it, attached to a photocopy of her PAN card. Additionally, I had a letter of authority attached and my own Aadhar and PAN cards (along with their photocopies) to prove that I was who my mother said I was.

Being as alien to most bank-related form filling as the rest of my generation, I timidly asked her if they would let me exchange the notes I had with me. Her reply was affirmative.
All I had to add to the form, she said, was my mother's phone number.

I had just borrowed a pen from a young man standing behind me and sat down on the marble platform to write down the number when I heard the soft jingle of bangles from behind me.
A small head peered over my shoulder.

"Aye mera bhi likh do na please."

Mrs Lata Pappu Bagul, a resident of Penkar Pada, had come all the way to Shanti Nagar to exchange the Rs 2,000 she had saved.
Draped in a pink and gold sari, she explained that she had an account in a bank in Kashigaon and had stood there in line for all of Saturday, only to come home empty handed. It was then that she decided to try her luck elsewhere.

Hurriedly, I copied her details from her Aadhar Card onto her form; and that was just the beginning.
As the sun climbed into the sky, more forms came my way from the elderly and from homemakers. I wrote and I wrote, and was offered sips of mango juice or pieces of that orange candy that grandparents always seem to have in their pockets and purses.

Then at 11.30, the doorway of the bank sucked in a huge crowd. Another bank employee came out and offered water to those of us still waiting.
Mrs Bagul, a gentleman in blue and I were all suddenly in the front. From the corner of my eye, I spotted a flash of khakhi.
A senior police inspector had just arrived on his bike with a junior in tow, in order to make sure that there was no trouble. It was then that the gravity of the situation finally sunk in.

The last 15 minutes before we were finally welcomed into the AC office were the hardest. The sun was beating down on us. Our feet alternated between aching and numb.
"This will end black money," declared an elderly man standing behind me to no one in particular and we all nodded our heads, to reassure ourselves than anyone else.

We believed, we were all optimistic, but we were all also tired.
Sure, we all had questions and could have done without the inconvenience, but voicing scepticism didn't seem like a smart idea.
You never knew who was standing beside you, you never knew who was listening.

An uneasy silence settled over our group only to be broken by the loud voice of the guard ushering us in.
The line jolted forward. Ten or twelve of us were welcomed in through the doorway and divided into two lines at two adjacent counters.
While I waited for those ahead of me to get their documents approved and head to another counter to get their cash exchanged, the first thing I did was to take off my slippers and let the burning soles of my feet rest on the A/C-cooled marble floor of the bank.

It was almost twelve. But it was almost over, I kept telling myself.
I handed the authority letter to the lady at the first counter and she warned me, "This might not be accepted. I'm sorry if you're turned away."

My heart sank.

However, I told her that I would take my chances. What else could I do?
I had been standing in line for more than three hours.
It was all a haze from one counter to another, and I sulked as I stumbled forward each time a person in front of me exchanged their old grey and gold notes for new pink ones.

Finally it was my turn. The lady at the exchange counter was being attended to by two of her colleagues as she coughed and coughed, and took sips of ginger tea.
When she set her cup aside, I couldn't help but stare longingly at the samosas in a plate matching her teaware.
My stomach grumbled. My parathas were still in a tiffin in my jhola, uneaten and cold.

"Haan, dijiye..."

The lady at the counter coughed, snapping me out of my day dream, and I half-heartedly pushed my documents towards her only to have her peer up at me through her thick, black-rimmed glasses and shake her head from side to side.

"But I have an authority letter and all the ID proofs and..." I pleaded, but the reply was a simple shake of the head.
"Authority letters don't work for exchange, you can deposit the cash," one of her colleagues chimed in as she handed her a palm full of Yogi Kanthika.

I stepped out of the line, feeling more dejected than when Ranbir Kapoor gets turned down by a girl before coming of age in all his movies, when a lady in a red kurta and curly hair and an Axis Bank employee ID around her neck tapped me on the shoulder.

"Your mother is at home?"

I nodded.

"Tell her to come fast."

I nodded again as she lead me to a waiting area. A frantic phone call was made. Within ten minutes a guard came to fetch me and as soon as he spotted my mother outside in the crowd, he ushered her in.

The rest of the process went along smoothly. Notes worth Rs 4,000 were exchanged, some more were deposited and a cheque was dropped all within ten minutes.

Finally, I could hold the new currency in my own hands and when I did... I was slightly underwhelmed, to be honest.

I am no economist and therefore cannot debate you on the pros and the cons of how this move by PM Modi will affect our economy. However, as an ordinary citizen, I would have expected a better design.

The new Rs 2,000 notes are a size and colour that can only be described as odd. One would have expected a slightly more intricate design, perhaps a less garish hue.

But all of this is an after thought. By the time I stepped out, it was 12.23 pm.
I had been standing for four hours, and so I could care less about whether the notes had Gandhi's face on them or Freddie Mercury's.

It was a Sunday, for heaven's sake.
There was sleep to be caught up with, and parathas to be reheated and eaten.

As my mother and I rode home in a rickshaw, the driver looked at the notes in my hand and chuckled to himself, "Baaki sab toh theek hai lekin saala ek bhi neta nahi dikha line mein."

"Perhaps if you were a politician," I said, turning to my mother, "that letter of authority might have worked."
IMAGE: Paloma Sharma sits down after her 'muscles melt away' in the queue to exchange old notes for new.