There are plenty of reasons to take the Delhi Metro - meeting polite and helpful people is just one of them, notes Anjuli Bhargava.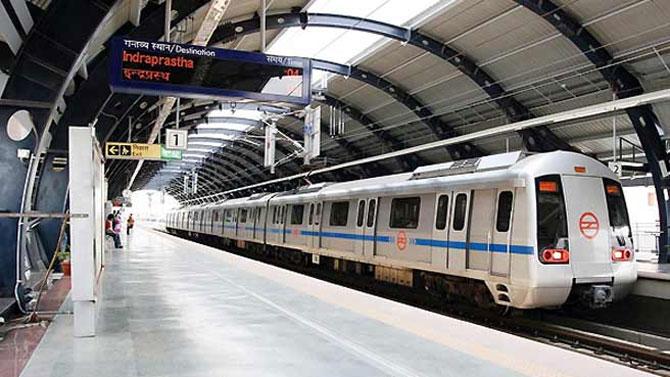 Roughly a year ago, I dispensed with the services of my driver of 14 years. It was hard but it has been very liberating.
I feel free and a sense of relief although he was a good man - efficient, trustworthy and hard-working. In the last one year, I have driven more than probably what I had in the last 14 years but what has been thrilling for me is the metro-ing that I have taken to aggressively.
I am delighted to report that I take the Metro at least four/five times in the months I am not travelling out of Delhi.
There was one month when I took 22 Metro rides (11 trips). With two travel cards to my name, I am now a regular feature on the Delhi Metro.
Here are some of my learnings and observations from this new creature in my life. People in general - and women especially - mean well.
There have been umpteen instances where I have seen young women offer their seats, offer to carry someone's heavy bag or go out of their way to help an aged person, a small child and of course the handicapped.
It is heart-warming to see how decent people can be even though they are not there for a joy ride, do it as a daily routine and usually walk into the train feeling quite hot and bothered by the vagaries of the world.
Almost on every ride, I have seen a young woman get up to offer a seat to an older woman and I don't mean an old woman - just one older than herself.
Air-conditioning helps. If we could find some way of air conditioning Delhi and the NCR, we'd see a sharp drop in road rage and other such incidents in this city. People to me seem remarkably calm in the Metro.
Even on the day the Nepal earthquake hit and the train I was in halted unexpectedly, no one flew into a panic. Be it men (there may be the occasional lout or ogler but it is far less than on the roads and marketplaces), women, children - even those wail less in the Metro than on flights - everyone is too busy on their iPod, phones and other devices and seem quite at peace with each other. Living in the chaotic suburb of Haryana, this thrills me on every ride.
Does the Metro attract a better-behaved Indian or does the Indian become better-behaved on the Metro -this question often keeps me absorbed on long rides.
As a nation we need to hit the gym or embrace yoga with the vigour our Prime Minister urges. Protruding stomachs is a serious problem in men's and women's compartments and it seems to have little to do with age.
Since I usually stick to the front of the train (reserved for women), young women in particular need to get on the treadmill more often than they are.
I'm not saying they are obese like the Americans but there is scope for improvement. As a leveller in society, the Metro is unbeatable. It is a melting pot of people from all walks of life.
For the first time in my life, I feel I am not living in a bubble.
That huge divide between us and them seems less yawning.
As one looks into the eyes (we are not mortally petrified of making eye contact unlike in many Western societies) of women of all shapes and sizes - students, mothers, professionals - they seem like real people with real lives and concerns.
This may be an aside but there is a serious business opportunity in high quality but reasonably priced women's footwear in India.
Footwear worn by Indian women is by and large ugly, impractical and of poor quality. More than once I have seen women struggle with broken sandals, torn straps and once even a broken heel in the Metro.
I urge the owners of Liberty, Bata and whoever else in is in this space to take a few metro rides to assess the full potential.
Why am I writing this piece on the Delhi Metro?
Primarily because I want more people like us to try it - not just for a lark although even that will do for a start - and use it on a more regular basis than we are (avoid peak hours if you are a beginner). It will not only help reduce daily stress on the roads but also bring you some joy.
Your fellow citizens are not as bad as you think.