Bad loans of PSBs are at Rs 20 trillion.
Most of it is, I sense, due to corruption and behest lending.
Nobody pays a price for this charade.
Not the promoters, the bankers, RBI officials, finance ministry bureaucrats or politicians, points out Debashis Basu.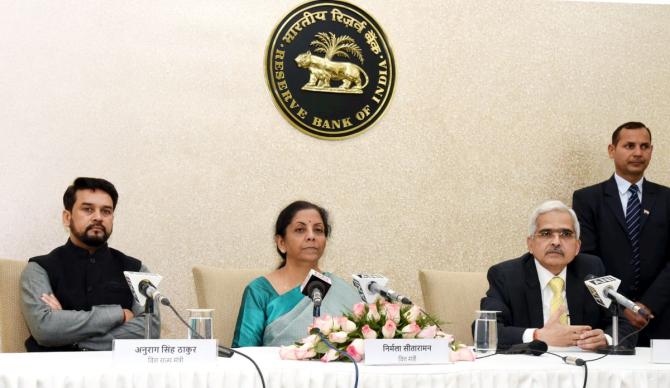 An internal working group of the Reserve Bank of India in November merely recommended that large corporate/industrial houses might be permitted to promote banks, only after necessary amendments to the Banking Regulation Act, 1949, to deal with connected lending and exposures between banks and other businesses, and strengthen the supervisory mechanism for large conglomerates.
This set the cat among the pigeons. Bankers, academics, economists, and, most importantly, former RBI governor and 'public intellectual' Raghuram Rajan all jumped in to deplore the idea.
Interestingly, India had already allowed businesses houses to enter banking in its 2013 bank licensing guidelines! (Later, of course, while announcing licensing norms for small finance banks, it explicitly banned business houses.)
From the US robber barons of early 20th century to the frequent bank failures in India before the sledgehammer of nationalisation of 1969, I have seen a wide array of reasons, some relevant but mostly irrelevant, to ban business houses from banking.
Mr Rajan says, 'It will further exacerbate the concentration of economic (and political) power in certain business houses'.
This can be handled by denying the mega business houses banking licences. Let me clarify I am neither for nor against the idea.
But we need to go beyond fear-mongering and generalities, so I want to point out far bigger issues that need to be resolved first.
Who needs a bank when there are PSBs?
The irony is that shady business houses in India have a free run of public money in public-sector banks.
From Vijay Mallya (Kingfisher Airlines) to Jatin Mehta (Winsome Diamonds) to Nirav Modi to the Sandesaras (Sterling Biotech) to the Singhals (Bhushan Group)... the list is long.
These businessmen did not need to own a bank. From State Bank of India to Punjab National Bank to Andhra Bank to Syndicate Bank, they could easily pick up money from the dozens of PSBs.
How much money has been looted in this manner? A former deputy governor of the RBI estimates that bad loans of PSBs are at Rs 20 trillion.
Most of it is, I sense, due to corruption and behest lending. Nobody pays a price for this charade. Not the promoters, the bankers, RBI officials, finance ministry bureaucrats or politicians.
Let's look at this number from a different perspective. IndusInd Bank has Rs 2.5 trillion in investment, advances, and other assets.
If, say, 8 per cent of this were to go bad (among the worst numbers today), Rs 20,000 crore (Rs 200 billion) would have to be written off.
It would require 100 such banks to rake up the bad loans figure of PSBs!
Even assuming that PSB bad loans are about Rs 8 trillion, we would need 40 largish banks like IndusInd to match it.
And if the RBI licensed just four new banks as it has done since 2001, and all of them grow to become as big as IndusInd, we are talking of a bad loan figure of Rs 80,000 crore.
In October 2017 alone, the Modi government announced Rs 2.11 trillion of taxpayers' money would be injected into PSBs! You can see what we should really be debating.
The worry, concern, and ills of Indian banking are deep corruption (meddling politicians and crony capitalism), zero accountability, stark regulatory failure, and repeated recapitalisation of PSBs with our money.
Among the defaulters have been four Parliament members, two of them Padma Shri awardees.
But, of course, to exemplify the evils of business houses owning banks, we will invoke the bogey of failed banks of 50 or 100 years ago, a time when there was no proper banking regulator and certainly not a regulator with draconian powers.
Once again I am not advocating that business houses be given banking licences but a curious and observant readers may ask: Aren't the Hindujas a business house (and wasn't the Times Group for that matter?) and that too with a controversial record, and extensive overseas and unlisted operations? It does seem hypocritical that we avoid discussing how the Hindujas got a banking licence, while going blue in the face about the IWG's suggestions.
But that would mean discussing how the RBI's licensing norms could be bent to suit some -- issues that celebrated economists don't bother with.
RBI's extensive powers
The RBI licensed just four new banks over 20 years. So, is it logical to assume that if the policy does change, all and sundry applicants would get a licence? And having got one, after much filtration, a Tata or Murugappa bank would run amuck?
If the RBI does its job well -- and this is critical -- no business house can do much damage.
And tight supervision would attract only the best names; shady ones would not even apply, knowing that they cannot mess around.
So, the issue is not so much about ownership (reminder: Looted PSBs are owned by the government) as the quality of licensing and supervision.
Under Section 35 of the Banking Regulation Act, the RBI inspects banks' books and can examine on oath any bank director or employee.
Banks are obliged to cooperate fully. Based on the RBI's recommendations, the central government can stop a bank from accepting deposits or even order their winding up.
Under Section 36AA(1), the RBI can remove the chairman, director, chief executive officer or any other employee of a bank.
Not only does the RBI approve the CEO, it has a nominee on the bank's board, the nerve centre of all major decisions, which the RBI is a privy to.
If needed, the RBI can conduct a special audit. Its supervisory powers over banks extend through a complex set of periodic returns and statements filed by banks on diverse issues.
Now, if the RBI does not use its powers well, banks run by business houses would, of course, be a menace.
But that can be easily said about banks promoted by bankers too (YES Bank and Global Trust are examples).
Indeed, if business houses are to be kept out only because the RBI is weak and inept, we have a much bigger problem deal with. And regulatory accountability is what we should be discussing first, along with that of PSBs.
Debashis Basu is the editor of www.moneylife.in.
Feature Presentation: Rajesh Alva/Rediff.com