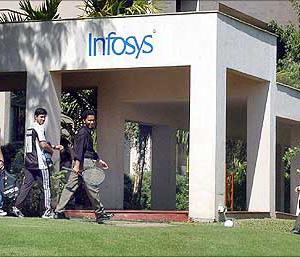 One quarter is too early to say that Mr Sikka has turned around Infosys; but, certainly, these are positive signals
As Vishal Sikka readies to complete his first year as the chief executive and managing director of Infosys, he can draw satisfaction from some signs of improvement in the company's performance.
Its net revenue for the quarter ended June 30 grew 12.4 per cent compared to the year-ago quarter and seven per cent compared to the previous quarter.
This sequential growth was its highest in 15 quarters. In addition, volumes grew 5.4 per cent sequentially, the highest in 19 quarters.
During the quarter, the company saw high growth in infrastructure management services, which is driving industry growth but contributes little to Infosys' business, a drop in attrition and a smart pickup in business from its top 10 customers.
The last, which is called customer mining, is important because it helps the company save marketing costs.
These were issues that Infosys had been struggling with for a long time.
Of course, one quarter is too early to say that Mr Sikka has turned around Infosys; but, certainly, these are positive signals.

However, during the quarter, its EBITDA margin was down 70 basis points year on year and 160 basis points quarter on quarter.
Some reports suggest that Infosys gave volume discounts in order to retain its marquee clients. In the past, Infosys has fiercely protected its profit margin, even if it meant sacrificing growth.
That mindset seems to have been turned on its head by Mr Sikka, the first non-promoter chief executive.
In an interview with this newspaper, Mr Sikka and Infosys chief financial officer Rajiv Bansal said their first priority was to get back to industry-level growth and then make investments in automation of services that will fatten the profit margin and raise turnover per employee.

If Infosys has to improve its margins, it is essential for Mr Sikka to invest in newer capabilities, which will help his company stay a step ahead of rivals.
There are signs that this may have already started to happen.
According to one report, from less than 200 or so projects in next-generation areas like open-source and artificial intelligence in March, Infosys now has almost 400 such projects in hand.
There are also signs that the company has managed to get more projects from its recent acquisition of automation technology provider Panaya and digital commerce specialist Skava.
Image: Infosys campus; Photograph: Reuters