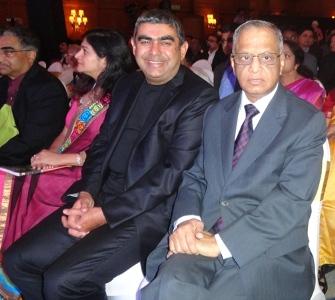 Infosys Technologies, India's second-largest software services exporter, on Tuesday, reported its consolidated results under International Financial Reporting Standards for the quarter ended June 30.
The company's consolidated profit rose 5 per cent to Rs 3,030 crore (Rs 30.3 billion), revenue went up 12.4 per cent to Rs 14,354 crore (Rs 143.54 billion) in April-June quarter.
According to a Reuters report, the growth in Infosys' profit is bolstered by a surge in demand for IT outsourcing services from clients in the United States, its biggest market.
Infosys provides IT services to clients like Apple Inc, Volkswagen AG and Wal-mart Stores Inc.
Analysts, on average, were expecting it to post Rs 3,020 crore (Rs 30.20 billion) in net profit, according to Thomson Reuters data.
Here are the highlights:
Q1 revenue growth at 7.0% QoQ, highest in 15 quarters
Volume growth at 5.4% QoQ, highest in 19 quarters
Gross client addition at 79
Largest client crosses $ 300 mn; added 2 clients in $ 200 mn bucket
6 large deals signed in Q1 with TCV of $ 688 mn
Quarterly annualized attrition for Infosys Limited at 14.2% compared to 23.4% in Q1 15
FY 16 revenue guidance retained at 10%-12% in constant currency
"I am very pleased with our performance in the first quarter. Our efforts in redesigning our clients' experience and our widespread adoption of innovation, both in grassroots and breakthroughs, are starting to bear fruit in large deal wins and in the growth of large clients," said Vishal Sikka, chief executive officer and managing director.
"While we are still early in our journey to become the leading next-generation services company, this gives us good momentum for the rest of the year."
"The organisation realignment made earlier this year for deeper client and operational focus has resulted in strong volume growth," said U B Pravin Rao, chief operating officer.
"We continued the roll out of employee engagement initiatives around collaboration and simplification of internal processes in order to retain the industry's best talent."
"We are operating within our stated margin band, balancing strategic investments and client focus with operational efficiencies," said Rajiv Bansal, chief financial officer.
"Pricing environment is competitive which we are addressing through automation and improvement in productivity.
Outlook
The Company's outlook (consolidated) for the fiscal year ending March 31, 2016, under International Financial Reporting Standards is as follows:
Revenues are expected to grow 10%-12% in constant currency;
Revenues are expected to grow 11.5%-13.5% in INR terms
Conversion: 1$ = Rs 63-Rs 65 for rest of the fiscal 2016
Audited consolidated financial results of Infosys (external link)
Image: Vishal Sikka and Infosys Founder N R Narayana Murthy at the Infosys Science Foundation Awards ceremony in Kolkata. Photograph: Indrani Roy/Rediff.com