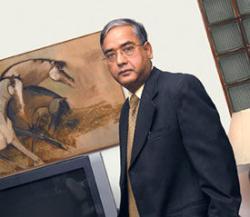 Anxiety of powerful business houses, including Sahara & RIL for Sebi chairman's removal is not unimaginable, says Supreme Court.
The Supreme Court has dismissed many petitions in the past but rarely has the country's apex court accused the petitioners of being "stool pigeons" of powerful corporate lobbies.

That's precisely what the judges have done in their detailed 87-page order on Friday, while rejecting the case against the appointment of Securities and Exchange Board of India Chairman U K Sinha, a close reading of the judgement shows.
Reacting to the affidavit that talked about action taken by Sebi against "influential and powerful" business houses, including Sahara and Reliance, the court said, "we are unable to easily discard the reasoning.
The anxiety of these business houses for the removal of the present Sebi chairman is not wholly unimaginable". The court also said the petitioner seems to be surrogate for a "powerful phantom lobby".
"We have been left with the very unsavoury impression that the petition is more for the protection of the vested interests of some unidentified business lobbies.
The court was ruling on a public interest litigation (PIL) filed in September 2011 challenging the finance minister's power to nominate two additional members in the selection committee for the appointment of the chairman and whole-time members of Sebi.
The PIL, filed by a Bangalore resident, Arun Kumar Agarwal, alleged irregularities in the appointment of Sinha as Sebi chairman and sought to quash it.
It is quite ironic that the petitioner's counsel, Prashant Bhushan, had also alleged before the court that CB Bhave was denied extension as Sebi chairman because of his insistence that investigations are held against complaints against Sahara and RIL, the latter in an insider trading case relating to Reliance Petroleum in which over Rs 500 crore were made in four days of trading in September, 2007.
The order, pronounced in open court, said that the court could have dismissed the petition as it was not maintainable on several grounds, including "absurd allegations". In the process, the court has also questioned the motive behind many of the PILs that are filed with unfailing regularity in courts across the country.
"It is not entirely inconceivable that a petition disguised as "public interest litigation" can be filed with an ulterior motive or at the instance of some other person who hides behind the cloak of anonymity even in cases where the procedure for selection has been meticulously followed. The petitioner has cleverly distorted and misinterpreted the official documents on virtually each and every issue. In our opinion, the petition does not satisfy the test of utmost good faith which is required to maintain PILs," the court said.
The apex court had last year issued notice to the Centre and Sebi and had also impleaded President's Secretary Omita Paul, who was advisor to the then Finance Minister when the decision to appoint Sinha as Sebi chairman was taken.