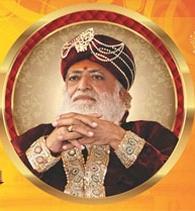 The Supreme Court on Friday refused to entertain a plea by self-styled godman Asaram Bapu, seeking a direction restraining the media from broadcasting stories allegedly projecting him in a bad light, after he was charged with sexual assault of a minor.
"Why should we restrain them? How can we stop them if they get information from police and other people? Can we tell them not to publish," a bench headed by Chief Justice P Sathasivam said as it summarily refused the plea of Asaram, who had alleged that he was being victimised by "frivolous" reporting against him.
Senior counsel Vikas Singh, appearing for Asaram, 72, referred to some stories and reports projecting him as 'Dracula'. He submitted that the court should pass a direction against media.
The bench was not satisfied with his arguments, saying, "Your remedy lies elsewhere" and dismissed the plea.
Singh then agreed to withdraw the petition.
Asaram was arrested in August on the charge of sexually assaulting a minor girl and has been in prison at Jodhpur since then. He is also being investigated in connection to other cases of sexual assault.