It is also necessary to question the sincerity of the plan announced by India to raise its forest cover while combating climate change, says Subir Roy.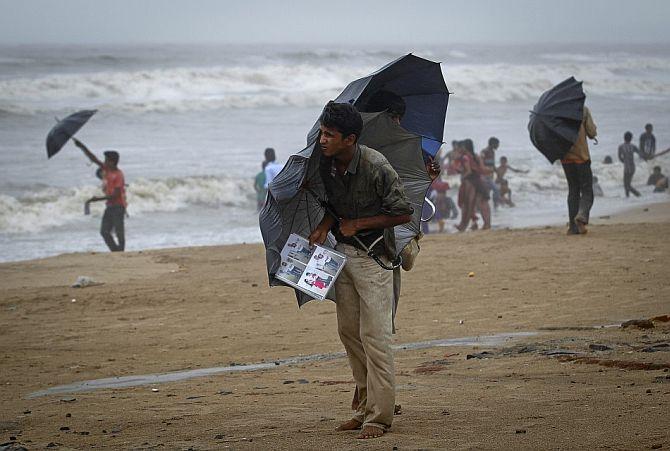 India's willingness to fall in line with other major world economies and announce pledges to combat climate change has produced a global sigh of relief.
But India's contributory effort is conditional on both finance and technology being forthcoming from developed countries.
Actually, Indian should join the battle against climate change for its own sake - because it is good for India - irrespective of whether outside help comes or not.
The dengue epidemic sweeping the country and looming monsoon failure are both attributed to unpredictable weather induced by global warming.
India also needs to get rid of a contradiction within itself.
It keeps saying that poverty is a great polluter whereas it also says that it wants to exploit the cobenefits of simultaneously addressing climate change and economic growth.
Fact is, you cannot pursue economic growth single-mindedly without concern for environmental degradation.
It is also necessary to question the sincerity of the plan announced by India to raise its forest cover while listing the measures for mitigation and adaptation in combating climate change.
In almost all cases where project clearance has been held up for want of environmental clearance, particularly for power projects, the government's attitude has been to give higher priority to getting projects and investments off the ground rather than addressing serious environmental issues.
India has promised to reduce the emission intensity of its growth by 33-35 per cent from 2005 levels by 2030.
But almost a decade of the 25 year time span available is already gone.
What has been the progress so far and in view of the track record till now, what is the likelihood that the self-determined target will be met?
First, let us take the energy intensity or energy efficiency of India's recent growth.
According to International Energy Agency figures (ENERGY AND EMISSION), India's consumption of energy per constant purchasing power parity (PPP) US dollar of GDP, measured in terms of tonnes of oil equivalent, actually went up from 0.16 in 2005 to 0.18 in 2010, to come down to 0.14 in 2012.
That is it improved by a paltry 1.7 per cent per year over the seven-year period between 2005 and 2012.
Second, how much of clean energy is used, measured by emission intensity - carbon dioxide emitted per unit of energy consumed? This went up from 2.14 in 2005 to 2.35 in 2010 to 2.48 in 2012.
That is, use of clean energy straightforwardly deteriorated by 16 per cent over the period.
Finally, what is the record of change of emission intensity over the same period? CO2 produced per PPP US dollar went up from 0.34 in 2005 to 0.43 in 2010, to come down to 0.35 in 2012, that is actually going up by a shade in the seven years.
For this to go down by 35 per cent, as India has committed, by 2030, the figure has to come down to 0.22.
This implies an average annual reduction of 1.94 per cent, that is close to two per cent when progress in the last seven years has been zero.
Not that it cannot be done but it will be no cakewalk, particularly when the necessary concern for the environment does not seem to be there in official circles.