The Modi government has ambitious plas to achieve 10% growth, but there is no assessment of how much money is needed for the whole package of measures, and where it will come from.
In short, there is no plan for how to get from here to there, points out T N Ninan.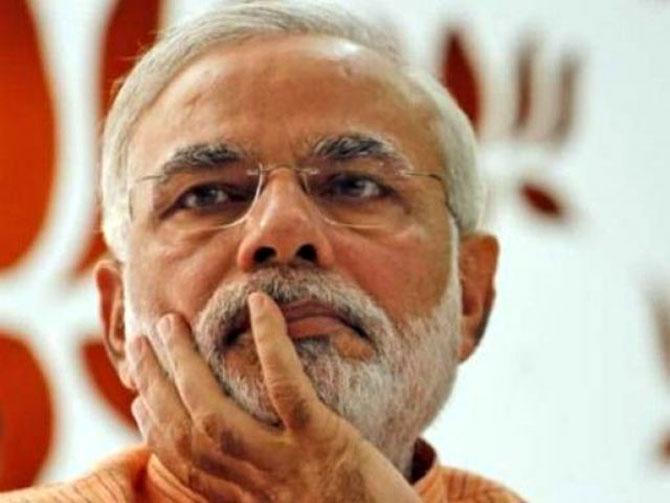 The Modi government has just launched an interesting exercise: how to plan for rapid economic growth without…well, a plan.
The stated goal is to achieve 10 per cent annual growth over the next 16 years (to 2032) - something that only one country has achieved in recorded history.
And the way to get there is known to senior officials in the government, whom the prime minister tasked last December with throwing up new ideas, working through eight teams, and putting together a package of measures that would achieve transformational results.
In two months, they produced action points totaling (by the looks of it) a few hundred. These are now presented in a "Transforming India" document that has 98 pages of bullet points. The goal: to take the country from a $2.2 trillion economy to $10 trillion (China is $11.3 trillion just now), with zero poverty, by 2032.
The action points are a mish-mash of the macro and micro, the important and the marginal. Mention of the semi-fast train from Delhi to Agra is not accompanied by any over-all plan for fast trains.
The Ganga is to be rejuvenated, but what about the larger water crisis? Drivers of heavy trucks are to be properly trained, and there will be Swachhta geet during the serving of mid-day meals in schools, even as manufacturing is to grow at 10-12 per cent (though how is not really explained).
All of which begs the first question: Is there any prioritisation here? And are the subjects and programmes included in "Transforming India" more important than the many left out? Or is this a variant of what it reminds one of: Indira Gandhi's 20-point programme, magnified 10-fold?
The Modi government is known for its downplaying of policy, and for its preferred focus on ambitious projects and programmes. That brings up the second question: How is one to fit the parts into a whole?
There is no evident link between the action points and the macro-economic targets. There is no assessment of how much money is needed for the whole package of measures, and where it will come from; after all, roads and freight corridors, manufacturing hubs and digital networks all cost money.
But there are no savings and investment figures, no fiscal projections, no assessment of external trade and capital flows. In short, there is no plan for how to get from here to there; no roadmap with milestones. This may be understandable since a certain former Gujarat chief minister thought the annual Plan discussions with the now-defunct Planning Commission were a waste of time.
But any company that plans for the future looks at cash flows to see where the resources will come from. Surely, there must be some logic to why 10 per cent growth, and not 12 per cent or 8 per cent. And why we think there will be 165 million new jobs in 16 years, not 200 million or 80 million.
In the fiscal area, the document says the Budget should be presented on the last day of December (there goes your New Year's Eve); the tax agreement with Mauritius is to be re-negotiated (but it takes two to do that); partnership firms will not be taxed, only their partners will; the minimum alternate tax should be based on assets or turnover, not profits, and so on.
While such specifics are mentioned (and some of them certainly need more application of mind), there are no broad fiscal goals specified. But we do have an ambiguous promise on retrospective taxation, which is "not to be allowed except in cases of reasonable prima facie evidence of evasion". Is that official admission that what we have had so far are unreasonable? If not, what has changed?
Photograph: Amit Dave/Reuters