Our real challenge as a country is perhaps to find retirement solutions for people who have not heard about provident funds or pension funds, writes Ajit Balakrishnan.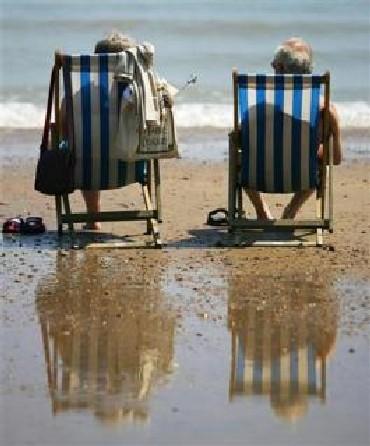 My friend has been increasingly irritable and prone to long spells of gloomy silence of late -- a stark contrast to his normal smiling, sunny self.

When I tried to draw him into conversation about a thought-provoking book I'd recently read, he'd break the conversation after a minute and lapse back into his thoughtful silence.

He used to be a full-of-ideas chief executive officer of one of India's largest companies and who had during his five years as CEO transformed his company, improved its operating metrics and overseen the construction and commissioning of a giant new manufacturing plant.

He is physically fit, with a daily routine of walking from Nariman Point to Chowpatty and back along Marine Drive, a distance of 12 km.
Then, why these gloomy silences? The reason was not hard to guess: he was a few weeks short of 64 years of age -- he'd have to retire in the next few months.

He and his wife would have to give up their company-provided spacious apartment in Malabar Hill and move to perhaps Bengaluru. He has been well-paid and he had been frugal in his living and careful with his investments.

But an apartment of the kind he was currently living in and in a part of the city that he and his wife had got used to in the past few years would cost him Rs 25 crore or more, an amount he as a salaried employee, however well-paid, could not afford.
What this particular friend was going through is not unusual.
Another friend, this one in Delhi, heading a large ministry as its secretary, has also lapsed into similar gloomy silences.

He dreads the thought of moving out of his Lutyens' Delhi bungalow and heading to a small flat that he invested in Noida.
What these men will miss, I guess, is not the financial perks of their office, but the urgent crisis that needed their attention every morning, phones ringing with powerful people wanting their attention and meetings where a mere raise of an eyebrow from them would make their underlings tremble.

Instead, as another one of them said to me the week after he retired, they faced a vast, empty silence when they get up every morning.
Part of the problem is that we tend to live much longer than our parents and grandparents used to. Those of us born around the time of Independence can expect to live 30 years longer than our parents did.

By that measure, the two friends that I portrayed above can expect to live to their mid-80s, meaning there is a yawning chasm of another 20 years that they need to fill.
Retirement blues can sometimes result in actions that are dysfunctional.

One example of this is when senior civil servants who preside over a regulatory body of government join a private company that is part of the industry that they have regulated, soon after retirement.

While we have some examples of this in India, this phenomenon appears to exist on a massive scale even in relatively open and egalitarian countries such as the United States, the United Kingdom and Japan.
In the United States, this movement of former regulators into senior positions in industries that they regulated is called "revolving doors", and examples abound of former federal government officials joining the defence contractors and financial services firms they oversaw.
Supporters of the system say that this familiarity helps create a more responsive government because of the pool of people who understand both the private sector and the government point of view.

But critics like Nobel-winning economist George Stigler point out that this may lead to "regulatory capture" -- when a regulatory agency, which is supposed to look out for the public's interest, acts in ways that benefit the industry it is supposed to be regulating.
In Japan, this practice of senior bureaucrats retiring and joining the private sector in senior positions is called "amakudari", literally "descent from heaven".

And many fingers have been pointed at former officials colluding with their former colleagues to help their new employers secure government contracts, avoid regulatory inspections and generally secure preferential treatment from the bureaucracy.
Till now we have discussed the Indian situation where powerful CEOs and secretaries to government get gloomy when they confront impending retirement.
But there can be the converse -- a situation where people are eager to retire early and fight for the right to do that.

In France, for example, bus and train drivers and miners, among others, can retire with full benefits as early as 50.
This has resulted in a situation that a large proportion of citizens are retired and living on State-provided pensions, which have to be paid for from the taxes paid by the current working lot, leaving them too little to spend on themselves - which, in turn, leads to a low-growth economy.
The move to get the retirement age increased can sometimes lead to perverse consequences. In some of India's public educational and research institutions, for example, the age of retirement has been pushed up under the banner of "faculty shortage".

The way it is done is this: all applications from newly minted PhDs are rejected on the grounds that they are not good enough; after this the government is pressured to increase the age of retirement periodically, because there is a "faculty shortage".

This has resulted in the retirement age at the Indian Institutes of Technology, for example, being raised to 70. The consequence of this is that these institutions cannot recruit enough of the bright, iconoclastic, energetic young faculty that will take the system forward.
But then, there is this other Mumbai acquaintance of mine, Subash -- who goes by one name -- from who we buy our fresh fruits every day. He came to Mumbai from Pratapgarh in Uttar Pradesh 26 years ago and over the years has got himself this strategic spot at the lower end of Colaba Causeway, where it is predominantly residential.

His "spot" is a tarpaulin spread over six wooden boxes on which he displays the fruit in season that he handpicks from the Byculla wholesale vegetable market.

He left behind the two-acre farm that his father broke his heart over trying to extract a living. His tiny fruit stall makes him about Rs 15,000 a month, with which he happily educates his son, now in Class 9.

Ninety per cent of working Indians are like him; they have not even heard of things like provident funds and pension funds.

Our real challenge as a country is perhaps to find retirement solutions for people like him.
Ajit Balakrishnan is the author of The Wave Rider, A Chronicle of the Information Age. You can mail him at ajitb@rediffmail.com