The airline has remained in an 'idling position' for the longest time. There are no peaks or troughs, no tumultuous rise or fall like Deccan, Kingfisher or SpiceJet.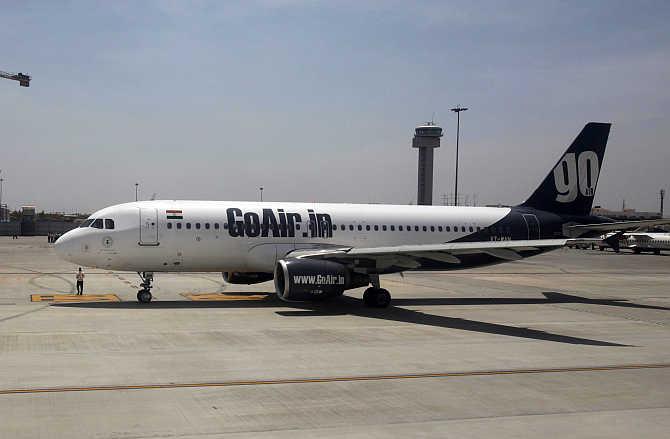 Recently, a foreign student from one of the management institutes got in touch with me. He was working on a paper on the aviation industry in India, looking in some detail at certain players - their history, strengths, weaknesses, future prospects and so on.
In the midst of our chat, he suddenly asked me about the Mumbai-headquartered GoAir - how would I describe and rate it, whether it was a strong contender in the low-fare space and so on.
I was a bit flummoxed.
The more I thought about it, the less answers I had. What about GoAir? What was it exactly?
Where is it headed? Did it even know? How had it managed to survive? Yet failed to grow? In short, what is the point of GoAir?
The best I could come up with was that the airline has sort of remained in an "idling position" for the longest time - in fact, ever since it was launched.
There were no peaks or troughs, no tumultuous rise or fall like Deccan, Kingfisher or even SpiceJet.
And when I looked closer at the history of the airline, I was puzzled at how this carrier - which recently waved goodbye to its latest foreign CEO and is awaiting the arrival of the next one - had managed the feat of neither growing aggressively nor plunging into a decline.
It just seems to hang around endlessly.
In many years of its decade-long existence, it has lost money.
It makes several announcements at different points - many of which it fails to see through.
Yet, some things occasionally also happen as planned.

The company has maintained that its slow growth is "a company strategy taken up due to the tough aviation environment in India, as a result of which the focus is on maintaining profitability rather than on capturing market share and increasing the destinations and fleet size".
But if GoAir has not had any major impact, it hasn't caused much harm either.
Looked at from a macro point of view, I can only say that GoAir - and its unremarkable history - has been good for the sector. It has served a purpose.

Let me elaborate. The airline does offer some enhanced connectivity.
It currently operates with 19 Airbus aircraft to 22 destinations. Nineteen aircraft over 10 years is not exactly a scorching pace of growth but it is some kind of growth anyway.
In 2011, in a sudden flash of aggression, the airline ordered 72 A320neos - deliveries of which were supposed to start in 2015 - at the rate of 12-15 aircraft per year.
That, of course, would make everyone sit up and take notice and would mean a lot of additional capacity in the Indian market.
But one can always worry about that if and when it happens.

The airline offers employment for a whole range of aviation industry professionals - something like a temporary parking ground.
Since it has always had trouble attracting - and retaining - the best talent, it often makes do with what it gets.
Several aviation industry professionals who burnt their fingers in Kingfisher were able to spend time with GoAir before they found "real jobs".
Almost everyone I speak to in the industry in Mumbai has had a short stint with the carrier.
Yet, it is hard to find a "GoAir loyalist", so to speak. In fact, few of the old employees take the airline too seriously.
Each time the airline changes its CEO, a large portion of the senior management team also changes and this always gives an opportunity to those on a "sabbatical" to join GoAir for a bit while they scout around.

Industry insiders say it adds that "unpredictable" element to the endless representations made by the airlines to the civil aviation ministry and government from time to time. As one rival airline chief executive put it: "One simply never knows which way GoAir will swing".

And last but not the least, GoAir - along with other smaller players - helps keep fares and the larger players in some kind of check.
By offering a reasonably reliable and efficient - if not memorable - service, it ensures that fares remain reasonable too.
And even if it doesn't exactly cause ripples of excitement, it doesn't often disrupt the market (unlike rivals such as Air India and SpiceJet).

So, in conclusion, even if there is no logic to GoAir, we - passengers - should just enjoy the ride. And if there is any truth in the saying "slow and steady wins the race", GoAir is sure to have the last laugh.
A GoAir aircraft taxis on the tarmac at Bangalore International Airport; Photograph: Vivek Prakash/Reuters