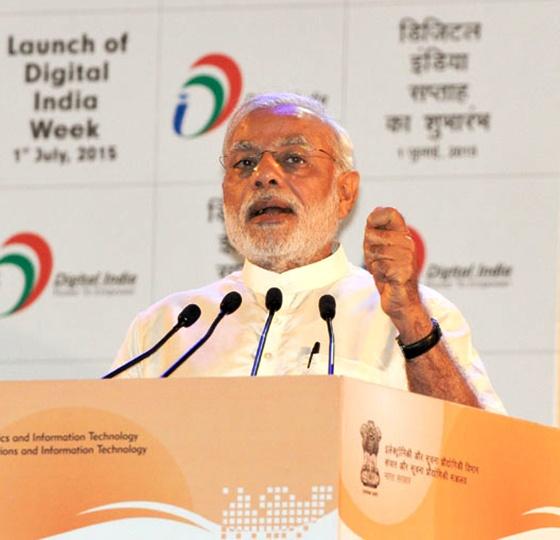 Prime Minister Narendra Modi may discover from the experiences of his predecessor Rajiv Gandhi that there are limits to what technology can achieve, notes Kanika Datta
Technology is back in the political pantheon as the leading deity to be invoked to rid the country of centuries of poverty and backwardness.
First, it was Rajiv Gandhi, who worshipped at its altar with his Technology Missions.
Now it is Narendra Modi; and he has acquired the most powerful of high priests in the CEOs of the world's leading IT companies, and such liturgy as Digital India and Make in India to aid these devotions.

No one can doubt the sincerity of both leaders in their desire to deliver India unto that haven we call the First World.
But as Mr Modi may discover from the experiences of his predecessor who occupied the prime ministerial office 30 years ago -- also with a historic mandate and the same atmosphere of fervid expectation -- there are limits to what technology can achieve.
Technology can certainly gain India membership in the comity of modern nations in the 21st century.
It can enable us to send vehicles to Mars and the moon and satellites into orbit, give us indigenously developed missiles and make us the back office of the world.
Societies can adopt and develop the world's most advanced technologies but that does not necessarily make them progressive in thought and outlook, qualities that are as vital for universal prosperity.

We only have to look around our immediate neighbourhood for examples.
There is ISIS, which spreads its bizarre version of Islam via the most sophisticated of digital knowhow acquired by its followers who trained in Western universities and corporations.
Or Israel, world leader in defence electronics and irrigation technology, which suffers an existential problem after 67 years of nationhood owing to its exclusionary national ideology.
In India, Bengaluru has been feted as "India's Silicon Valley" and Hyderabad our biotech hub. Many of the bluest chip multinationals set up large establishments in these cities to enable transfers of advanced technology and R&D.
This exposure to multi-cultural western organisations, more intensive than anywhere else in India bar, perhaps, Gurgaon, did not diminish the kind of offensive xenophobia that caused some 8,000 panicked Indians of northeastern origin to flee those cities in 2012.
Other examples of the divergence between access to technology and progressive mindsets lie in disaggregated data for India's shamefully skewed gender ratio.
The prosperous states of Punjab and Haryana are among the worst offenders.
How do families here sex-select?
By breaking the law and using ultrasound technology to determine the sex of the unborn infant. Nowadays, richer Indians travel to Thailand to access the latest technology to ensure the birth of a boy child (these are the infamous "Bangkok boys").
This gender discrimination takes place with the tacit acceptance of educated society, many of whose members partake of the highest standards of technical education in the US and Europe.
That is why there is something dissonant and disturbing in the photographs of Mr Modi's triumphant performances in Silicon Valley when juxtaposed with the headlines of the past month: of a Muslim openly murdered by a Hindu mob for an imagined culinary transgression and stalwarts of the ruling Bharatiya Janata Party defending the murderers, of Bihar politicians, including those of the 'development'-promising BJP, talking of caste alignments to win the upcoming Assembly elections, of the member of an obscurantist religious organisation being implicated in the murder of a Communist leader.
Rajiv Gandhi's six Technology Missions under the perennially upbeat 'Sam' Pitroda, who attracted much interest for that peculiar American accent non-resident Indians acquire and his publicised salary of Rs 1 for his services, were as relevant then as Mr Modi's programmes today: drinking water, immunisation, literacy, oil seeds and telecommunications and later dairy production.
The results were by no means a write-off, certainly in the immunisation campaign and telecoms.
To be fair, the gap between targets and achievement is linked to too many factors outside even the most ambitious politician's control -- the sheer size of the country and its population to mention just two -- and Mr Modi may well encounter those problems in his technology-driven development drive too.
Image: Prime Minister Narendra Modi