Patanjali Ayurved's rise has prompted most other babas to go back to the drawing board. Most of them are either scripting or re-jigging their business plans, says Arvind Singhal.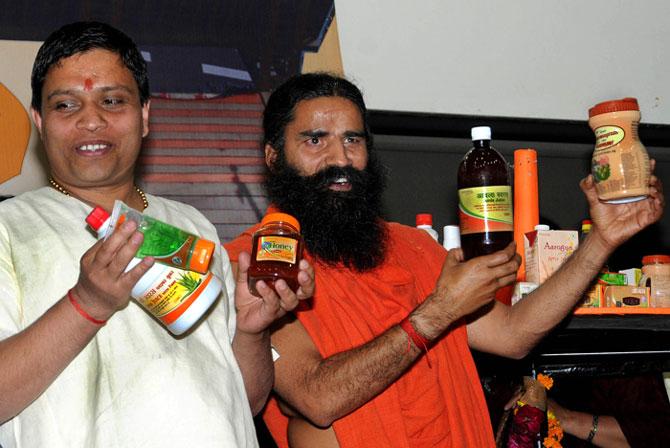 Out of nowhere, national and international investors, financial analysts, media and consumers have been taken by surprise at the incredible surge in popularity (and size of business) of spiritual gurus.
The poster boy, of course, is Baba Ramdev, and the spectacular growth of Patanjali Ayurved, which boasted of revenue of Rs 2,000 crore (Rs 20 billion) in the last financial year, and claims to nearing the Rs 5,000-crore (Rs 50 billion) revenue in the current financial year.
While profitability numbers are harder to come by, it can be safely assumed Patanjali has its arithmetic right. It cannot expand without getting its basic business model in place. That is clear.
Its rise has prompted most other babas to go back to the drawing board. Most of them are either scripting or re-jigging their business plans. The question is, what are the underlying factors for this trend? My submissions:
Rising health concern: Consumers across the world are becoming increasingly conscious of their health and well-being, and getting wary about potentially harmful effects of synthetic and chemical additives put in a broad range of food and personal care products.
This is demonstrated by way of increase in demand for organic foods the world over and a remarkable growth of so-called naturally occurring super-foods such as quinoa and turmeric in particular. The trend is fast resonating with many Indians, too, especially in the upper middle bracket.
Nationalism: While some (or their spouses) could be worried about staying on in India, and find the country a boiling cauldron of intolerance, it seems an increasing number of Indians seem to be overtly or subliminally embracing some of their 'Indian' roots with greater enthusiasm.
The spectacular rise of products and services with 'India' at its core seem to demonstrate this. This includes companies/brands that include clothing (just about every wedding and festival celebration in India finds more Indians wearing traditional clothes, jewellery, and accessories), skin care and body care, personal care, foods including health foods, health and well-being treatments, food services (across different formats ranging from fast food to casual dining to fine dining), etc.
In the next decade (and perhaps Prime Minister Modi should be credited for this), there would be greater pride in being an Indian and, therefore, a bigger opportunity for companies offering indigenous products than foreign ones.
Pressure on existing brands: The growth rate of e-commerce has been spectacular in recent years and also acted as a disruptor of traditional business.
As the old adage, 'location, location, location' gives way to a newer one, 'choice, more choice, even more choice', Indian consumers are getting more promiscuous when it comes to their loyalty to brands.
In the world of virtual retail, consumers can seamlessly flirt from one brand to another across different product categories, try unknown or lesser-known brands at nearly no-risk to themselves on account of no-questions-asked return or exchange policy of retailers, in the process, denting the strength of current power brands across product categories.
Modern retail (both physical and digital) is also providing reach to various 'Baba' branded products, even as they push their presence through their own stores and through millions of traditional fast-moving consumer goods (FMCG) outlets, denting the historical distribution advantage of giants such as Hindustan Unilever, Nestle and Colgate to name a few.
Is this a fad? By all indications, it seems this wave is likely to sustain and could create a bigger impact on the entire Indian FMCG universe in years to come.
Arvind Singhal is chairman, Technopak Advisors
Photograph: PTI