India's domestic output and transport systems can't keep up with demand, creating an ever greater reliance on imports, rues Clyde Russell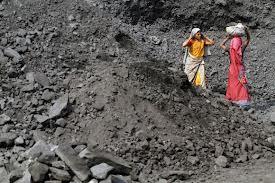 India's coal deficit is going from bad to worse and unless the country makes major policy changes, its hopes of lifting millions of people out of poverty through economic growth will be dashed.

The economy can't grow without increasing electrification, which requires more power plants, and given coal is the cheapest form of fuel and is abundant, it makes sense that India is looking to boost the use of the fuel.

India's problem is simple.

Domestic output and transport systems can't keep up with demand, creating an ever greater reliance on imports, which are expensive and also require infrastructure such as ports.

Coal output is also concentrated in the north and east of India, while power demand growth is more toward the south and west.

Domestic production is likely to be about 587 million tonnes for the fiscal year ending March, while imports are likely to be around a record 168 million tonnes, making India the second-biggest importer after China.

Coal imports surged 20 per cent in February from a year earlier to 11.6 million tonnes, according to data from research firm OreTeam, bring the total for the 11 months to February to 143.5 million tonnes.

The government's 12th five-year plan anticipates that about 76 gigawatts of new power will be added by 2016-17, with about 63 GW being coal-fired.

Assuming this capacity is actually added, it would take total coal-fired generation to around 175 GW, which would need about 842 million tonnes of coal a year, Vernon Morais, vice-president of fuels at Lanco Power, told the Coaltrans India conference in Goa on March 6.

In addition to coal for power generation, India has optimistic plans to expand steel output, which could potentially require as much as 300 million tonnes of coking coal by 2016-17, taking the total requirement to around 1.1 billion tonnes.

There is virtually no way that this scenario is even remotely feasible, but the projections do highlight just how serious India's coal situation has become.

Coal India, the state-controlled behemoth that produces about 80 per cent of domestic output, believes it can increase output by 300 million tonnes a year, if Indian Railways moved faster in building tracks.

Instead, Coal India expects to raise output by about 30 million tonnes a year for the next few years, Chairman S Narsing Rao told Reuters in an interview on February 26.

The company expects to produce about 475 million tonnes in 2013-14, meaning its likely expansion will still leave India well short of the coal it needs.

Coal Minister Sriprakash Jaiswal told lawmakers last month the coal shortfall could range between 185 million and 265 million tonnes by 2016-17.

However, this could be optimistic, with Lanco's Morais estimating a shortfall of 356 million tonnes. Given India's focus on lowering its current account deficit, the country can ill afford to increase its coal import bill, already around $14 billion a year at present import levels.

SOLUTIONS AVAILABLE, WILL LACKING

The question then becomes how best to tackle India's coal problems, and how likely are solutions to be implemented?

The broad consensus among industry players at Coaltrans India was that more must be done to privatise the coal sector and eliminate bureaucratic red and green tape.

Niladri Bhattacharjee, a director at KPMG Advisory Services, showed figures that of 44 rail projects underway by December 2012, 32 percent were delayed for more than 60 months and 23 percent by between 25 and 60 months.

Coal India is also awaiting 179 forest clearances, which are environmental approvals needed to start new mines, Amitabh Sharma, a partner at Khaitan & Co, a law firm, said in a presentation he delivered at the conference.

India's rail network is already at capacity and plans to increase the amount of track appear to be much delayed.

Coal industry players also complained of a lack of coordination at central and regional government levels, too many different departments involved in project approvals, and too many bureaucrats with too little incentive to push processes along.

Breaking up Coal India was also mooted as a solution, but this would have to be accompanied by private access to railways, and most likely private-public partnerships in building new tracks and ports.

Changing emphasis to developing mine-mouth power plants and then transporting the electricity through high-voltage cables was another potential solution, but once again this will require a shift in emphasis and mindset on the part of the government.

There are certainly no shortage of ideas on how to improve the production, transport and consumption of coal in India.

The problem is that most require government approval and involvement, something that appears to be lacking.

While there is hope that this will improve after the country's general election, to be completed in May, there is no guarantee that a new government will be willing, or able, to push through reforms.

It's human nature to wait until the point of crisis before taking decisive action.

India's coal supply is at the point of crisis now, and the situation will get worse in the next few years.

The lack of domestic coal availability, despite the world's fifth-largest reserves, is already hitting power generation, and thus economic growth, given the strong correlation between power demand and gross domestic product.

In the absence of concerted reform efforts, India's coal imports will rise and its economic will continue to fall short of potential.
Image: Coal miners at work; Photograph: Reuters
Clyde Russell is a Reuters market analyst. The views expressed are his own