The growing presence of retail networks is hard to miss, in the (also) growing number of shopping malls and elsewhere, rues T N Ninan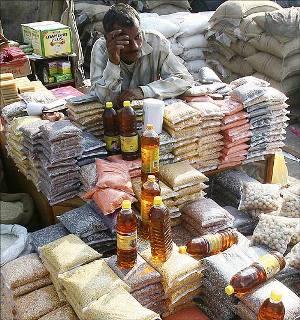 A young woman was setting up house in Mumbai recently.
About 85 per cent of her budget was spent shopping at outlets run by chain stores or on websites -- to buy white goods, brown goods, furniture. . . .
The only items bought at the traditional retail outlets in bazaars were some electrical and bathroom fixtures and kitchen utensils.
Yet business statisticians tell us that organised retail accounts for only seven per cent of the total retail business in India of more than half a trillion dollars.
Perhaps, this is because about three-fifths of such retail business consists of food items, and perhaps young working women in Mumbai are not part of any representative set.
Still, the growing presence of retail networks is hard to miss, in the (also) growing number of shopping malls and elsewhere.
Apart from the Future Group, Shoppers Stop and chains run by India's big business houses (they are all there -- Tata, Birla, Ambani, Mittal, RP-Sanjiv Goenka . . .), there are also speciality outlets like pharmaceutical store chains that, one hopes, are assurance against the supply of fake drugs.
Foreign retail chains, reluctantly allowed limited entry, have begun to make their initial moves and, like Ikea, intend to spend big money -- sometimes in the billions of dollars.
Meanwhile, the big investors can't seem to get enough of the action when it comes to shopping websites -- whether Flipkart or Jabong, PropTiger or Urban Ladder.
As for publishing, Pranab Mukherjee's book is available only online.
In case you haven't noticed, India's retail business is changing, fast.
As with all such change, there are tensions and disputes.
Big organised retail is lobbying against the discounting practices of the websites, the government is looking at whether the operations of the websites are on all fours with the law, and the 'radio taxi' companies are complaining about the entry of operators like Uber (but also offering discounts in order to compete).
Whatever the specifics of these issues, it is hard to argue that change must be stopped.
And so, one wonders: whatever happened to the politicians' oft-stated worry about the fate of 14 million neighbourhood mom-and-pop stores, and the people they employ?
Retail trade is the biggest provider of jobs after agriculture and manufacturing; using that argument, politicians blocked foreign investment in the retail business for years on end.
Quixotically, though, they did not stop home-grown chain stores from taking root. So was the fuss about local kirana stores, or giving the domestic big boys a protected market?
The permission to foreigners to come set up shop, when it was finally given, was hemmed in by riders -- how much of the goods sold must be locally sourced, in which cities and states they could do business, and so on.
Quite a few states have refused to allow foreign stores, some of them even reversing earlier policy decisions that gave the green light.
So it is strange that, when both small and big brick-and-mortar stores are threatened by the emergence of e-commerce, no one is concerned about job losses.
Perhaps, it is easier to sound off against big bad Walmart than against faceless international financiers of young domestic entrepreneurs who have launched e-commerce businesses.
Once again, technology has forced the no-changers to risk looking like Luddites.
The Left ended its opposition to computers only after the birth of personal computers made it look foolish; ditto now with the advent of e-commerce. In between, foreign investment rules for the media were made irrelevant by rapidly growing traffic on news websites.
It is time to take a more open view of the sector, and tap into the advantages of organised retailing -- the assurance of quality, the development of supply chains that aid efficiency, and the birth of new vendors whose goods would add to exports by feeding into international supply networks.
The net impact might even be an increase in employment.
Image: A salesman waits for customers at a grocery wholesale market in Chandigarh. Photograph: Ajay Verma/Reuters