If you look at Mr Shanghvi and his business, you may find several things wrong. Unlike industry doyens Parvinder Singh of Ranbaxy, Anji Reddy of Dr Reddy's Laboratories and Yusuf Hamied of Cipla, he is not a scientist, says Bhupesh Bhandari.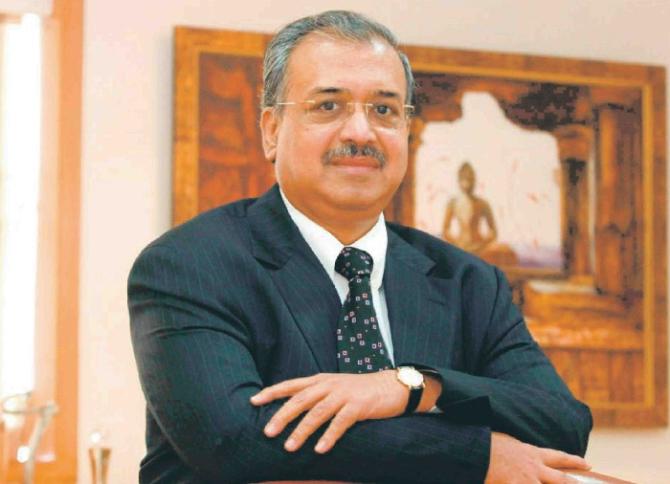 Sun Pharma chief Dilip Shanghvi. Photograph courtesy: Creative Commons
The big news is that Dilip Shanghvi has overtaken Mukesh Ambani to become the richest Indian.
According to Forbes, Shanghvi's net worth as on March 12 was $21.7 billion, more than 10 per cent higher than Ambani's net worth of $19.6 billion.
There's more: as Business Standard reported a few days ago, Shanghvi tops the list of the world's richest healthcare and pharmaceutical billionaires.
If you look at Mr Shanghvi and his business, you may find several things wrong.
Unlike industry doyens Parvinder Singh of Ranbaxy, Anji Reddy of Dr Reddy's Laboratories and Yusuf Hamied of Cipla, he is not a scientist.
In fact, he is a commerce graduate from Calcutta University. In that sense, he is an outsider to the world of pharmaceuticals.
Two, he is not into the race to launch new drugs – the holy grail of the industry – and has instead chosen to play in the world of low-cost off-patent drugs.
Three, he has acquired Ranbaxy which has a serious reputation problem in India and abroad.
And four, his company, Sun Pharmaceuticals, has had issues with the United States Food & Drugs Administration. Then why on earth do investors love him?
Investment analysts have waxed eloquent on the reasons for the phenomenal success of Sun Pharma on the stock market: high profit margins, predictable business model, great acquisitions et cetera. Apart from all of that, Mr Shanghvi has the X factor, which shows up in different ways.
To begin with, Mr Shanghvi may not be a scientist, but he is extremely well informed. Whoever has met him has come back impressed with his incisive queries as well as his deep insights.
Investors are convinced that his knowledge of the pharmaceutical industry is phenomenal and therefore his decisions will not go wrong. An investor knows where the buck stops in any company, and then he tries to assess if that person inspires confidence.
The trust in Mr Shanghvi's wisdom is total. So, when it was announced that Sun Pharma would acquire Ranbaxy, which has had more than its share of trouble with the US FDA, investors became confident that there must be good value in the controversy-ridden company.
When its acquisition of Ranbaxy was announced in April, Sun Pharma shares were trading at around Rs 590; they are trading at around Rs 1,010 now, a gain of over 70 per cent.
The Ranbaxy share price, in this period, has risen over 80 per cent from Rs 440 to Rs 800. It was only after the deal was signed that it came to light that others too were keen to buy Ranbaxy.
Though the company has suffered reverses in the US, it has a strong portfolio of products in India and other markets, which makes it a worthwhile purchase.
People who had written Ranbaxy's obituary did a U-turn and said Mr Shanghvi had spotted a gem — yet again. What has reinforced this reputation is that all the acquisitions Mr Shanghvi has done have been well thought through.
They have either filled a product gap in his portfolio or given him access to a key market. Never has he done an acquisition just for the sake of doing it.
The man has never been on an ego trip. During the days of easy liquidity, before the 2008 financial crisis struck, Indian pharmaceutical companies did several overseas acquisitions, few of which have survived the test of time.
The reputation of Anji Reddy suffered when he acquired Betpharm, Germany's fourth largest generic company, for around $570 million in 2005.
His company had to write off the investment over two years, resulting in the company reporting a loss in 2008-09, its silver jubilee year.
Unlike his peers, Mr Shanghvi has always stayed focused.
In India, he chose not to play in all therapeutic areas and concentrated his energies on the chronic ailments category.
And when it was time to venture abroad, he went with single-minded determination to the US, the world's largest market for pharmaceutical products. This is appreciated by investors.
Mr Shanghvi has never tried to be everything to everybody.
That Mr Shanghvi is self-made makes investors trust him that much more. He is a role model for aspiring entrepreneurs.
Stories of how he got started in business with Rs 10,000 borrowed from his father have been told and retold several times. People in India always love a rags-to-riches story, and nobody exemplifies it better than Mr Shanghvi. He exudes warmth and humility. Never will you hear extravagant stories of his lifestyle. And you won't find a single man who grudges Mr Shanghvi his success.
All this reinforces the trust in him. So much so, there is an aura of infallibility about him, which is like riding a tiger and can be scary.
Not just Mr Shanghvi, other Indians from the world of medicine too are on a roll.
In The Billionaire Club, Business Standard's annual list of the country's 100 richest people according to stock market wealth, as many as 15 entries were from the pharmaceutical sector!
All of them, except two, saw substantial improvement in their net worth.
The combined wealth of these 15 went up a whopping 57 per cent from Rs 1,91,593 crore (Rs 1915.93 billion) in January 2014 to Rs 3,01,352 crore (Rs 3013.52 billion) in January 2015.
This shows that in spite of stringent price controls in India, several cases of substandard manufacturing and adverse intellectual property regime, they remain the preferred suppliers of low-cost medicine to the world.