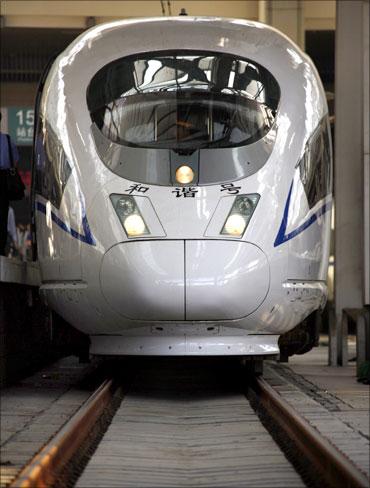 Most of the rail sections that connect Mumbai and Delhi are already overloaded and can be mitigated substantially only if the freight traffic moves to the Western Dedicated Freight Corridor, notes Ramakrishnan T S.
The sooner we complete the Western Dedicated Freight Corridor and introduce Talgo trains, the closer we will be to fulfilling our high-speed bullet train dream.
For this, we need to create conditions suitable for the roll-out of these trains
The Indian Railways has announced it will conduct test runs between Mumbai and Delhi with Spain Talgo trains, which can run at speeds of 160 to 200 km per hour on existing tracks.
Currently, the travel time between Mumbai and Delhi varies between 16 and 30 hours, depending on the type of train taken.
Rajdhani, Duronto and August Kranti Rajdhani take about 16 hours, while mail/express trains take about 20 to 30 hours.
Talgo trains, on the other hand, can complete the 1,430-km journey in 10 or 12 hours.
Although more than two dozen trains run between Mumbai and Delhi in both directions daily, many of them pass through Mumbai and Delhi, leaving little scope for Mumbai-Delhi passengers to avail of the seats on these trains.
Unavailability of tickets for train travel, coupled with travel time eating into productive day time, has pushed Mumbai-Delhi passengers to resort to low-cost airlines, where end-to-end travel time is not more than six hours.
According to the recently published report of the Directorate General of Civil Aviation on the number of passengers between various origin-destination pairs, Mumbai-Delhi topped with 472,000 passengers in August 2015 in both directions.
This works out to 15,700 passengers a day.
Given such a huge current air ridership, in principle, there is great scope for semi-high-speed trains such as the Talgo trains to be operated between Mumbai and Delhi.
The question is: Will the introduction of Talgo trains attract air passengers to train travel? Although only a detailed study would be able to assess the modal shift that could happen from air to Talgo trains, modal shift essentially depends on the schedule (departure and arrival time) of trains as much as reduction in travel time.
However, it can categorically be said that only if Talgo trains are scheduled with departures between 5 pm and 9 pm and arrival between 5 am and 9 am -- as this would save day time for passengers -- the modal shift from air travel would be noticeable.
Those who travel by train anyway would be more than willing to switch to Talgo trains, given the reduction in travel time would be anywhere between four and 15 hours, and the benefit of scheduling that would save day time.
With such a fast and affordable travel facility, there would be some induced travel demand, too.
Thus, there is a great opportunity to run at least 24 trains every day in both directions, departing between 5 pm and 9 pm, with a headway of 20 minutes or so, and more or less full occupancy.
If train speeds rise up to 200 kmph, it would be untenable to have level crossings -- both manned and unmanned -- as these would jeopardise the safety of people, vehicles and cattle.
The closing and opening of manned level crossings being interlocked with signalling systems, it is impossible to operate trains at speeds of 160 to 200 kmph.
Will it be possible to operate Talgo trains once all level crossings are eliminated with road over-bridges or road under-bridges?
No.
To smoothly operate a series of Talgo trains in both directions on a route at 160 to 200 kmph during the time window of Talgo operations, the route has to be cleared of other traffic -- both passenger and freight trains.
There is a catch here.
Most of the rail sections that connect Mumbai and Delhi are already overloaded and can be mitigated substantially only if the freight traffic moves to the Western Dedicated Freight Corridor.
According to the original plan, the WDFC -- conceptualised in 2005 and begun in 2008 -- has to be completed by 2016-17.
However, due to delay in land acquisition and project implementation between 2008 and 2014, the WDFC got stuck.
Only after the Narendra Modi government came to power in 2014 did its execution accelerate.
While 88 per cent of the land has been acquired under the amended Railways Act, 2008 for WDFC, the Dedicated Freight Corridor Corporation of India Ltd has to acquire the remaining under the Land Acquisition Act, 2013, which means the compensation to be paid for the land acquired has to be twice its market value in urban areas and four times its market value in rural areas.
Although this results in cost escalation for the WDFC, as pointed out by Road Transport and Highways Minister Nitin Gadkari, the 2013 Act is a blessing in disguise: The new compensation is too attractive for land owners to wage a legal battle against land acquisition.
It does not require statistical evidence to show that the additional cost incurred due to higher compensation paid under the 2013 Act would be lower than the time and cost overruns arising out of delay in land acquisition for DFC projects.
The other blessing in disguise for the railway ministry and the DFCCIL is that all four states -- Haryana, Rajasthan, Gujarat and Maharashtra -- through which the WDFC passes have governments led by the Bharatiya Janata Party.
Either for land acquisition or for removal of public utilities or any hindrance, the utmost cooperation of the state governments is mandatory.
Because of the past delay, the completion date has now been fixed at December 2019.
However, for the National Democratic Alliance government at the Centre, there are clear compulsions to complete the WDFC at least by June 2018.
Why? Without the WDFC, it is next to impossible to introduce Talgo trains between Mumbai and Delhi. Introduction of semi-high-speed Talgo trains before the 2019 general elections has to be seen in the larger scheme of things.
Wittingly or otherwise, bullet trains or semi-high-speed trains have become synonymous with Prime Minister Modi.
Although financial support from Japan has been assured for the first bullet train corridor between Ahmedabad and Mumbai, it would take at least six to eight years for its completion, as it is a Greenfield high-speed rail project.
The only option left for the Union government and the railway ministry is to introduce Talgo semi-high-speed trains before the 2019 general elections.
This would be a curtain-raiser to the introduction of the full-fledged high-speed trains in the next couple of years and would facilitate the government to keep the bullet train dream alive.
For that to happen, the government and the railway ministry should demand that the BJP-led governments in the aforementioned four states establish and provide the DFCCIL with continuous institutional support to complete the WDFC by June 2018.
Image: Bullet train. Photograph: Reuters
Ramakrishnan T S has a PhD in public systems from Indian Institute of Management, Ahmedabad. The views are personal