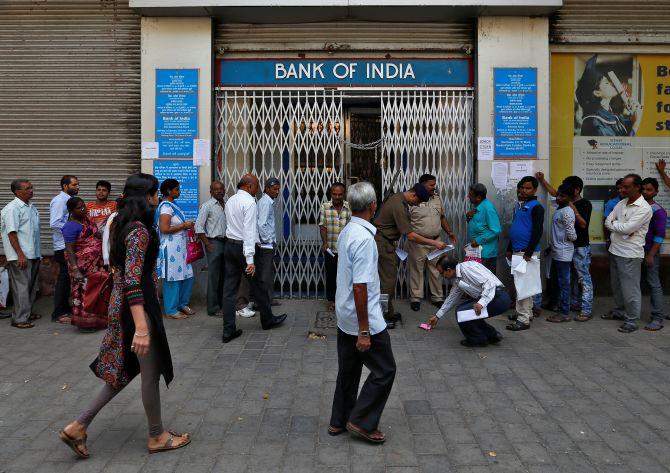 'If supply of cash is not sufficient from the RBI, it may create difficulty for both banks and people.'
The queues in banks have shortened considerably in the past few days and the government's decision to forbid exchange of certain notes on Thursday did not seem to have much adverse impact on the general public.
However, shortage of cash continues and in some places banks are enforcing their own limits on cash withdrawal.
For example, in pockets of Bengaluru, some branches have set a limit of Rs 10,000 withdrawal per week against the mandated Rs 24,000 as branches struggle to give cash to everyone in the queue.
"The Reserve Bank of India is not supplying enough cash. We are running out of cash, only a few thousands are left in the bank right now. Due to this, we are restricting the maximum withdrawal limits to Rs 10,000 per week, as opposed to Rs 24,000," said a senior official at a Canara Bank branch in Bengaluru.
According to the official, there was no cash in automated teller machines.
However, scrapping the note exchange programme seems to have thinned the queues.
"After the announcement, there was hardly any crowd in the bank," said the official.
Similarly, in Mumbai, a manager at a State Bank of India branch said queues have come down and people are not complaining.
<p?"We are still waiting for those big deposits. So far, the amounts deposited are normal," said the official.
But some bankers felt that unnecessary confusion is being created by the frequent changes in rules.
According to a branch manager in suburban Mumbai, many people came in the morning for exchange of old notes but were surprised to know the ban.
The effect was much more adverse in rural and semi-urban areas where share of transaction done in cash is high, said the SBI executive.
Exchanging currency notes anyway was not a problem in metro cities as people have their bank accounts. But the situation in hinterland, where most of the unbanked reside, could be very different.
Odisha is one of those states with huge tribal population and officials are taking additional steps to extend help to these unbanked poor.
"The problem of exchange remains for the tribal and rural population, especially in unbanked areas. Many of them do not have bank accounts and now are denied cash exchange facility. We have written to the lead district managers to form a team of three, comprising of district magistrate, district labour officers and LDM, for opening of accounts for the workers employed in unorganised sector," said an official of the State Level Bankers Committee.
While district magistrates and DLOs will identify the workers, LDMs will take steps for opening of accounts, he added.
Bankers were largely relieved with the government decision to halt the exchange of notes.
While queues for exchange of Rs 500 and 1,000 notes may have reduced, bank personnel are still finding their hands full with deposits and withdrawals.
A branch manager in Ahmedabad said, "We have seen a rise in withdrawals as people need money for their daily expenses. However, we are unable to satisfy everybody due to lack of cash."
Staff are now anxious over new salaries being deposited by next week, which could result in more withdrawals. "If supply of cash is not sufficient from the RBI, it may create difficulty for both banks and people," the manager added.
The manager of a public sector bank in Lucknow said queues for exchanging notes had already started to get shorter over the past few days.
"The withdrawal of the exchange facility for the demonetised notes would further help banks cut work," he said.