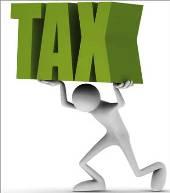 The shipping sector is already going through a down cycle.

Now it has got a shocker from the Union Budget 2012-13.

The shipping industry unlike other industries attracts tonnage tax and the budget has proposed to increase the tonnage tax by more than 50% on various class of tonnage effective  from April 1, 2013.

Under the tonnage tax scheme, the operating profit of a shipping company is determined on the basis of tonnage capacity of its ships.

Budget proposal


Tonnage Tax

Qualifying Ship having net tonnage

Existing amount of daily tonnage income

Proposed amount of daily tonnage income

Upto 1000

Rs 46 for each 100 tons

Rs 70 for each 100 tons

Exceeding 1000 but not more than 10000

Rs 460 plus Rs 35 for each 100 tonns exceeding 1000 tons

Rs 700 plus Rs 53 for each 100 tonns exceeding 1000 tons

Exceeding 10000 but not more than 25000

Rs 3610 plus Rs 28 for each 100 tonns exceeding 10000 tons

Rs 5470 plus Rs 42 for each 100 tonns exceeding 10000 tons

Exceeding 25000

Rs 7810 plus Rs 19 for each 100 tonns exceeding 25000 tons

Rs 11770 plus Rs 29 for each 100 tonns exceeding 25000 tons
This amendment will take effect from 1st April, 2013 and will, accordingly, apply in relation to the assessment year 2013-14 and subsequent assessment years.
The 5% CVD on foreign-going vessels on conversion for coastal trade shall now be charged on proportionate basis depending on the period for which it operates as a coastal vessel in India. The value shall be taken as the lease value when the import is against a lease agreement/ contract.
Stocks to watch
Shipping Corporation of India, Great Eastern Shipping, Varun Shipping, Mercator Lines, Great Offshore
Outlook
Shipping industry globally is confronted by excess supply suppressing freight rates on one hand and hardening bunker rates impacting its operating profit on the other hand.
Shipping industry being a global/international one, the scenario for domestic shipping lines are no different.
Given this scenario the current 50% rise in tonnage tax across various size of vessels is set to increase the tax incidence hurt the bottomline of the industry players.
As offshore vessels largely being operated on long term rates the ability of incresed tax cost could not be factored into the day rates and thus hurting the profits.
Overall the impact is negative for the sector.
Union Budget 2012-13: Complete coverage