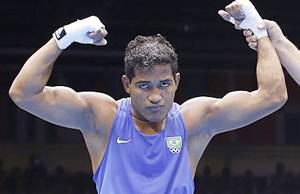 India's boxers continued to attain new highs at the World Championships in Almaty, Kazakhstan, as three of them entered the quarter-finals on Tuesday.
Vikash Malik (60kg), Sumit Sangwan (81kg) and Satish Kumar (+91kg) joined Shiva Thapa (56kg) and Manoj Kumar (64kg) and swelled the Indian count in the last eight to five, one better than the previous best achieved in the 2011 edition in Azerbaijan.
"It is a historic performance. I mean, we have won medals, but, as far as reaching this level is concerned, it is the first time that five Indians have made the quarter-finals," an elated national coach Gurbax Singh Sandhu said.
"We are getting standing ovations from fans here. It is very thrilling and something that makes you feel very proud," he added.
Vikash, the first Indian boxer to step into the ring on Tuesday, was the underdog against fifth seed and former 2008 European Championships silver-medallist Miklos Varga.
The Indian trailed by a couple of points in the opening round but made a stupendous recovery in the next two, clinching them unanimously to emerge triumphant.
He has another tough bout coming up, against Brazil's Robson Conceicao, a former Pan-American Games silver-medallist, who is seeded fourth in the event.
"Vikash fought tempo-style in all the three rounds. He prefers to be aggressive and even though it was little even in the opening round, he dominated the second and third," Sandhu said.
"He mostly employed his straight punches and uppercuts to good effect. In fact, Vikash did not give any chance or time to the Hungarian boxer to regain his composure. It is a great win," Sandhu added.
Next in was Sumit and it never looked that he was facing an opponent more fancied than him. But the 20-year-old Olympian thrashed eighth
seed Siarhei Novikau of Belarus in a lop-sided contest, winning 3-0.
"I played my natural game of back-peddling and hitting straights. I kept a distance and hit on every opportunity that I got. It helped that I knew I was leading," Sumit said.
"Sumit's mantra was to hit and dodge craftily. He mostly used his left straights and his technique was excellent," added Sandhu.
Sumit also faces a tough opponent in London Olympics silver-medallist and top seed Adilbek Niyazymbetov of Kazakhstan in the quarter-finals next.
The local favourite had won a silver medal in the previous edition of the World Championships.
"I have seen his fights and, hopefully, I will be well-prepared to tackle him. I am not intimidated by his past record," said Sumit.
The last Indian in the ring on Tuesday was Satish, who outpunched Belarus's Yan Sudzilouski 3-0.
"Satish mostly used his straight punches in what seemed like a street fight. It was an entertaining bout but Satish ended up sustaining a cut above his right eye. Hopefully he would be fine to fight the quarter-final tomorrow," said Sandhu.
Satish is up against London Olympics bronze-medallist and local hero Ivan Dychko, who is seeded second.
The Indian boxers' performance is a creditable, given that they cannot compete under the national flag due to the national federation's provisional suspension.
India have won just two medals at the World Championships, through Vijender Singh (2009) and Vikas Krishan (2011).
Image: Sumit Sangwan
Photograph: Murad Sezer/Reuters