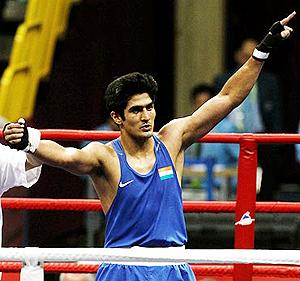 Vijender Singh (75kg) turned in a solid showing despite being down with viral fever to beat Sweden's Hampus Henriksson in his opening bout at the World Championships in Almaty, Kazakhstan, on Thursday.
The Indian boxing ace, the first from the country to win a medal at the mega-event (a bronze in the 2009 edition), out-punched the Swede for a 3-0 verdict that gave him a berth in the round of 32.
The individual scoreline read 30-27, 30-26, 30-26.
"I am down with fever, cold and cough ever since I landed here, but somehow managed to pull myself today. I am glad that I won, but it's just the start," said Vijender, who is aiming to make a strong comeback after being embroiled and cleared in a drug scandal, earlier this year, which cost him several weeks of training.
"I have been on medication for the last two days. Before today's bout my coaches told me that I should not feel weak, mentally, no matter how I was feeling physically. So I just went in with a positive mindset and pulled off the win," he said.
National coach Gurbax Singh Sandhu also praised the boxer's showing.
"Vijender gave an exceptional performance against a very tough boxer. The other guy was very aggressive, but Vijender caught him with some good uppercuts that broke him. Later, Viju connected some deft left hooks," Sandhu said.
Vijender has a tough bout next up, as he will meet 22-year-old European champion and world No 7 Jason Quigley of Ireland, who is seeded fifth, on Saturday.
"Let's hope that I recover substantially by then and see how it goes," said Vijender.
It was a typically composed performance by the 27-year-old former world No 1 and the first Indian boxer to win an Olympic medal (a bronze in the 2008 Beijing Games).
"He (Henriksson) was aggressive, but I gathered everything inside me in the first two rounds and the strategy worked as I broke him down with uppercuts," he said.
Vijender dominated all three rounds and got a unanimous decision from the judges, who are evaluating the boxers not just for the number of punches connected but also overall ring craft under the new 10-point system.
"Our boys have done well under the new rules so far. The absence of head guards has also not been an issue. They have, in fact, done better without the head guards," laughed Sandhu.
With this victory, three Indian boxers – Vikash Malik (60kg) and Asian Championships silver-medallist Mandeep Jangra (69kg) the other two -- have cleared the first round.
Five others -- Asian champion Shiva Thapa (56kg), Thokchom Nanao Singh (49kg), Sumit Sangwan (81kg), Manoj Kumar (64kg) and Asian Games silver-medallist Manpreet Singh (91kg) -- have byes. Of them Shiva and Manoj are seeded fourth and sixth respectively.
On Friday, two Indians are in the fray. Manpreet opens his campaign against Keddy Agnes of Seychelles, while Manoj meets Fatih Keles of Turkey.
Image: Vijender Singh