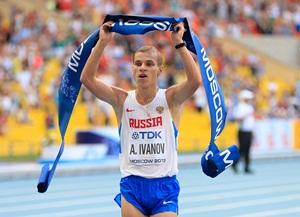 Aleksandr Ivanov brought a sparse Luzhniki stadium to its feet and claimed a third successive men's 20-kilometre walk gold for Russia on Sunday, becoming the youngest walk winner at a World Championships, as a trio of Indians disappointed in the event.
Ivanov, 20, was greeted by a loud roar of approval as he clocked a personal best 1:20:58s to finish 11 seconds ahead of China's Olympic champion Chen Ding.
Colombian Luis Fernando Lopez took bronze, as he did in 2011, in 1:21:21s.
Ivanov, continuing Russia's illustrious history in race walking, had been set to battle it out for gold with Olympic silver medallist Erick Barrondo. But the Guatemalan's hopes were crushed when he was shown a third yellow card and disqualified around two-km from the finish.
Russia's 2009 and 2011 World champion Valery Borchin is injured and did not defend his title.
India's K T Irfan was disqualified after raising hopes of a creditable finish till the halfway mark.
The National record holder was sixth after the halfway mark and maintained his position just before crossing the 15-km mark. But Irfan, who had finished 10th in the 2012 London Olympics, was stopped by the race officials before the three-fourth stage for race rule violations.
His compatriots, Gurmeet Singh and Chandan Singh, finished 33rd and 34th with timings of 1 hour 26 minutes and 47 seconds and 1:26:51 respectively.
Image: Aleksandr Ivanov crosses the finish line in the 20-km walk on Sunday
Photograph: Jamie Squire/Getty Images