Against the more seasoned Francis Cheka, Vijender Singh faces a tricky battle that he is favoured to win, reports Dhruv Munjal.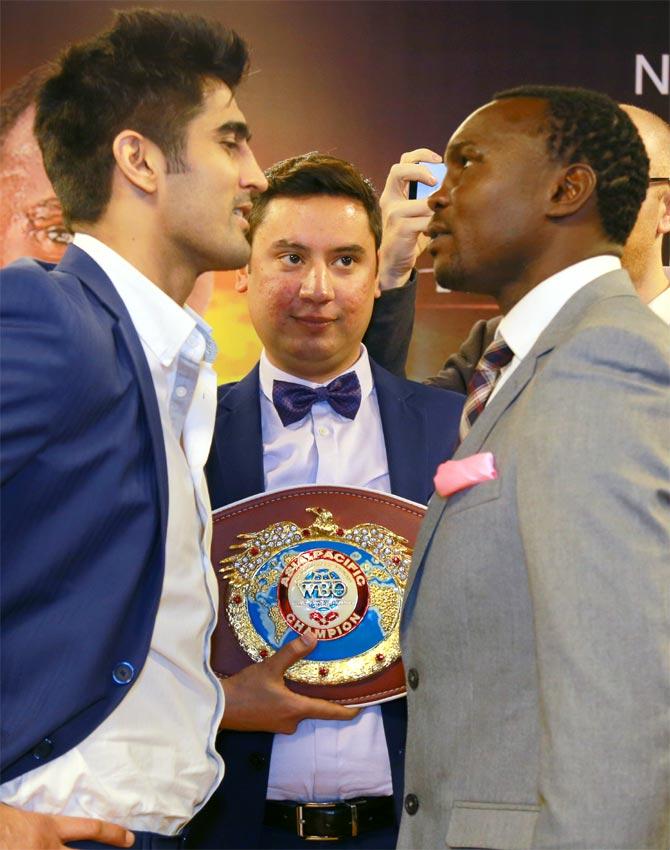 IMAGE: Vijender Singh, left, with Francis Cheka during the pre-event face-off in New Delhi, December 12, 2016.
There is little doubt that Francis Cheka likes to talk, in a bumptious, finger-brandishing manner that often contributes so handsomely to his own implosion inside the ring.
"Vijender Singh is running scared already. He doesn't know what's going to hit him," announces the Tanzanian emphatically.
Trash talk is easily one of professional boxing's most piquant subplots. A fight minus the raging looking into the eyes and the mordant jibes robs such an occasion of its tempestuousness.
But Cheka, it seems, likes to take such buffoonery to new levels.
Fear did not quite show on Singh's visage when the two fighters met for a pre-event face-off on Tuesday evening.
If there were any nerves, the WBO Asia Pacific Super Middleweight champion managed to camouflage it quite brilliantly. He looked remarkably self-assured and prepared for a 34-year-old fighter who has never won away from home.
Fear, he says, is the last thing on his mind.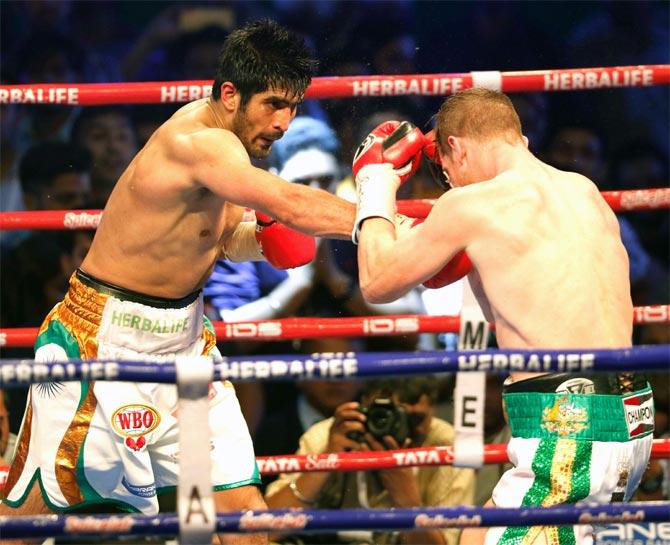 IMAGE: Vijender Singh in action against Kerry Hope, a bout he won in July.
In July, Singh proved his durability in his first 10-round bout, outlasting Australian Kerry Hope in an encounter that seldom threatened to explode into something spectacular.
Its poor spectacle value, though, didn't bother Singh much. He comfortably achieved what he had set out to do: Last the distance against a high-quality opponent in his first proper professional fight.
"Staying in there is what really mattered, and he did great," says Lee Beard, Singh's trainer for the last one year.
"That was a great experience. So much happens during the course of 10 rounds; you learn so much. The Hope fight will obviously help against Cheka," says Singh, who is unbeaten in his first seven fights -- six of those wins coming in the form of stoppages.
"Cheka is perhaps underestimating me. He's judging me by my fledgling professional career. But I've been boxing for years. He'll find out in the ring," he adds.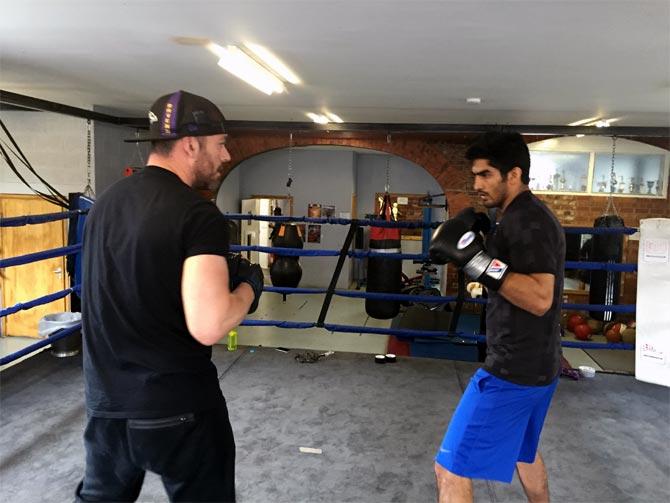 IMAGE: Vijender Singh spars with his trainer Lee Beard.
Cheka's lampooning of Singh may not be completely unjust -- his confidence stems from understandable reason.
The IBF Africa Super Middleweight champion has been fighting in the pro ranks for more than a decade and is a veteran of 40 fights (16 knockouts), and there is little denying that experience plays its part in such encounters.
"He's moving up all the time," says Beard of Singh, "Hope was a level higher. Cheka is going to be a notch above that. But he's prepared; training has been great."
Much like his preparation since he turned professional in the middle of last year, Singh has spent most of his time training for Cheka in Manchester.
Staying away from all the limelight has definitely helped, feels Singh. "For starters, the phone doesn't ring as much as it does in Delhi," he laughs.
Under Beard, the Bhiwani boxer has stepped up training, focusing more on endurance and punching strength.
Against Hope, the 31 year old exhibited his exquisite punching prowess, landing jabs accurately that eventually wore his Aussie opponent down.
"Every fight brings with it a learning curve. I feel confident and I'm delivering my punches well," says Singh.
Cheka has been furiously preparing for the downfall of Singh too.
Over the last couple of weeks, he has been taking on sparring partners in 12-round contests -- all his workouts replete with high-intensity exercises mainly centred around conditioning.
"It won't take me more than a couple of rounds to knock him out. I may only need one, who knows," says Cheka.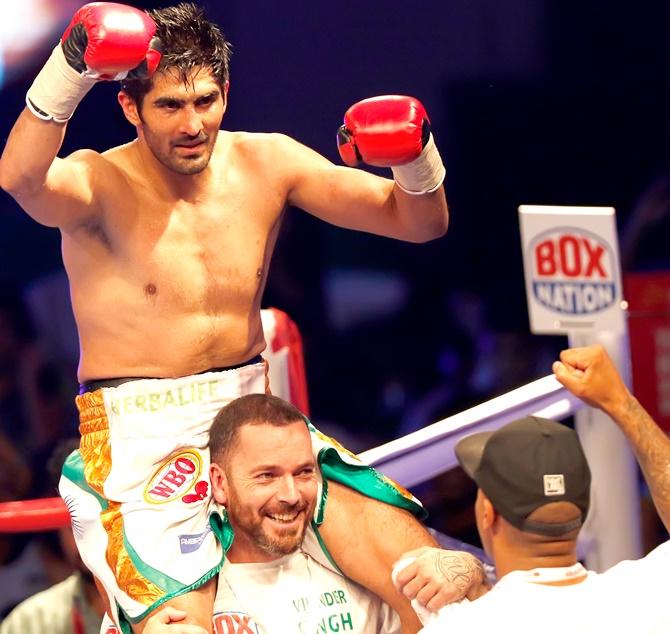 IMAGE: Vijender Singh celebrates with his team after beating Kerry Hope.
In many ways, Singh will be wary of Cheka.
The man from Morogoro likes to punch big -- a plausible explanation for his somewhat mixed professional record -- but can recede into a shell when required.
Knowing Singh's efficient counter-punching style and the wave of partisan support he'll be besieged by, Cheka is likely to do the more sensible thing: Take a few punches and lash out whenever the opportunity arrives.
If Cheka does actually come out swinging, Singh will be confronted with something vastly different to anything that he has faced so far.
In his seven fights, barring probably Hungarian Alexander Horvath -- who looked like an amateur pugilist catapulted into professional prize-fighting limelight almost overnight -- no one has really looked to to sweep Singh off the canvas.
In Horvath's case, his erraticism ensured that he was battered by Singh in the third round.
A similar tactic employed by Sonny Whiting in Singh's first fight led to the referee stopping it much before it could even properly gain some momentum.
Beard, on the other hand, feels that it will be business as usual for his fighter.
"I'm not sure if the bout will last too long. Singh will go after him and end it quickly."
Singh, however, will be quick to acknowledge that fledgling boxing careers can sometimes be funny business.
\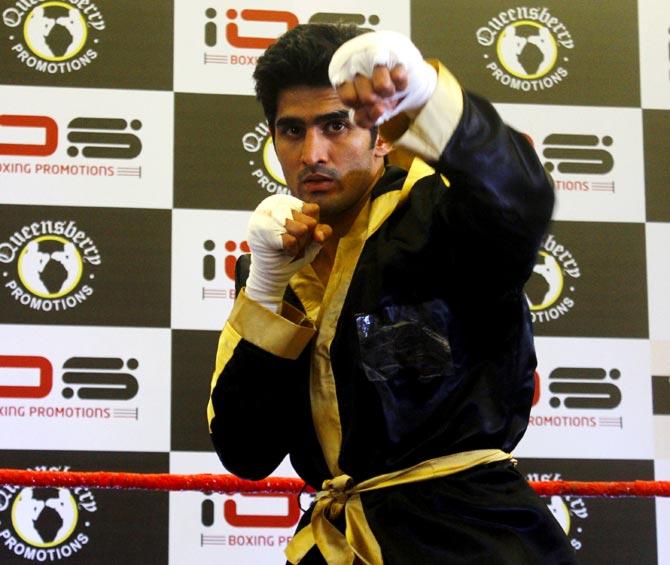 IMAGE: Vijender Singh during a live training session in Mumbai. Photograph: Hitesh Harisinghani/Rediff.com
In April, IBF World Heavyweight Champion Charles Martin met Anthony Joshua at London's 02 Arena for his first title defence.
With 21 knockouts to boast, Martin went into the fight undefeated. Against Joshua (15-0), a monstrous British fighter who has now made a habit of knocking people out cold, Martin was made to look like an imbecile sparring enthusiast who had never come face to face with the treacherous environs of professional boxing before.
The result was embarrassing. By the second round, Joshua had floored the bewildered Martin once already. Seconds later, the 27-year-old Watford man sent him crashing again with a giant right hand.
Martin, who could now only see the ring lights and the London night in the background, refused to get up. His reign as world heavyweight champion had just lasted 85 days.
But then Singh would also know that Cheka is no Joshua. It would be a rude shock if Singh were to meet Martin's fate.
More reassuringly for him, the thousands who will pack New Delhi's Thyagaraj Stadium tonight will make sure that doesn't happen.