Tiger Woods roared into contention for a first title in 14 months after a six-under-par 66 in the second round on Friday moved the twice Dubai Desert Classic champion to within three shots of halfway leader Thomas Aiken.
Woods moved to seven-under (137) for the tournament, level with Dane Anders Hansen (68) and Briton Michael Hoey (67) while South African Aiken returned another 67 for a 10 under halfway total of 134.
Having started at the 10th hole, world number three Woods birdied 12, 13 and 18 before he racked up three more in five holes from the second en route to his lowest round since December.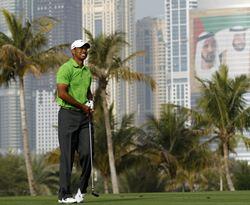 Woods stole the show in the company of playing partners and the world's top two players Briton Lee Westwood (139) and German Martin Kaymer (140), the Englishman carding a 70 to Kaymer's 71.
The 14-times major winner relished the early start and easier conditions during his bogey-free round that contained just 25 putts while Westwood hurled his ball into the water after a final-hole bogey.
"Being out this morning also meant we had some clean greens which was nice, and all three of us hit them perfect, and made a few putts," the American told reporters.
"As of right now I am three back, so where that is at the end of the day I'm not sure but I've played my way back into the tournament.
"It felt good today as I hit some good shots," the 35-year-old added.
Briton Nick Dougherty will be sidelined for some time with confirmation he has broken his right wrist.
Dougherty was forced to withdraw from the Dubai Desert Classic after slipping over in the shower in his Dubai hotel.
"The damage to my right wrist is worse than first thought as I have fractured bone in the back of my right hand and I will not be playing any more tournament golf for three weeks," he said on his website (www.nickdougherty.com).
"That's the bad news but the good news is that I pulled out of the Dubai Desert Classic just an hour before my first round tee time and avoided further injury."