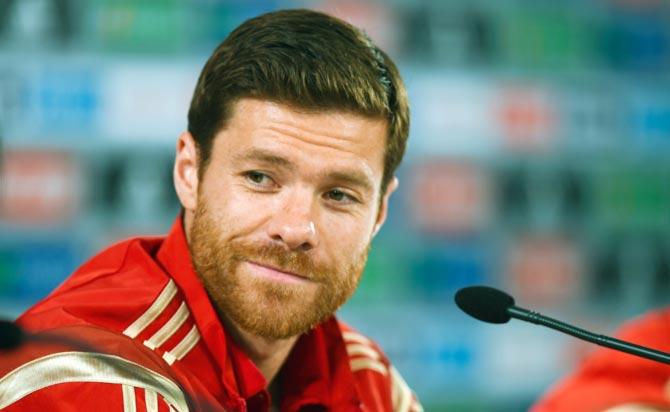 Xabi Alonso. Photograph: David Ramos/Getty Images
German champions Bayern Munich are close to signing former World and European champion Xabi Alonso from Champions League winners Real Madrid, they said on Thursday.

The 32-year-old midfielder, who on Wednesday announced his retirement from international soccer after winning one World Cup and two European championships with Spain, is considered as a replacement for the injured Javi Martinez.

He can help orchestrate Bayern's game from his deep-lying position while also providing leadership with holding midfielder Bastian Schweinsteiger and Thiago Alcantara both out injured.

Bayern finance chief Jan-Christian Dreesen and Matthias Sammer told reporters terms has "basically" been agreed and the player would arrive later on Thursday for a medical.

"We have basically agreed terms with Xabi Alonso. He will arrive today for his medical," Dreesen said. "We are in friendly talks with Real and am confident that in one or two days there will be agreement with Real as well."

He said, however, Bayern were eager to sign him rather than take him on loan with Alonso's contract running out in 2016.

The transfer of Alonso, who will be Bayern's fifth Spanish player along with Pepe Reina, Juan Bernat, Thiago Alcantara and Martinez, comes just one day after the club signed central defender Mehdi Benatia from AS Roma for a reported 25 million euros ($33.02 million).

"This is purely sporting decision because Alonso can instantly help us and boost our quality," Bayern sports director Matthias Sammer said. "He can play top level football for at least two more years."

Martinez has been ruled out for at least six months with a cruciate ligament tear, forcing fellow Spaniard, coach Pep Guardiola, to look for more defensive midfield options.
Platini rules out standing against Blatter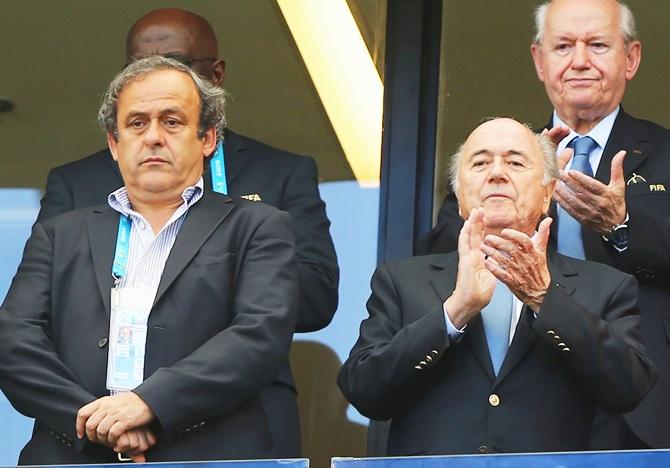 UEFA President Michel Platini, left, and FIFA President Joseph Blatter look on. Photograph: Martin Rose/Getty Images
UEFA president Michel Platini ruled himself out of the running for the most powerful job in football on Thursday, the Frenchman deciding not to oppose incumbent Sepp Blatter for the FIFA presidency next year.

Platini told the chairman and general secretaries of UEFA's 54 member nations that he has decided not to stand against the 78-year-old Swiss, who will be seeking a fifth term when the election is held.

"This is the decision I have made. I wanted to do what is best for UEFA," the 59-year-old former France international told reporters.

He had previously called for a "breath of fresh air" at FIFA and said during the recent World Cup in Brazil that a new mandate for Blatter would not be good for football.

UEFA member Michel D'Hooghe, who also sits on the FIFA executive committee, told reporters after meeting Platini that it was a very positive meeting and he is very pleased with the outcome.

"Mr Platini made it clear he has a very important job to do at UEFA and would remain as president and that decision has been warmly welcomed by everyone here," the Belgian said.

The Frenchman's decision was greeted with applause from the delegates and D'Hooghe added: "We think it is the right decision and I am pleased that at this time there will be no conflict between UEFA and FIFA over the presidency."

The only person so far to declare his intention to run against Blatter is former FIFA deputy secretary general Jerome Champagne, 56, who announced his candidature in January and has recognised he is the underdog.

Blatter was first elected president in 1998 and possible candidates have until January to declare their intentions.

The signs were already pointing to Platini shying away from pitting himself against the controversial Blatter, with the Swiss counting on strong support outside Europe, before Thursday's announcement.

In March he had said "there is only one person who can beat Blatter - me" but he also made it clear he was happy running UEFA and the decision would be a personal one.

Platini is young enough to bide his time and is seen as unlikely to beat Blatter, who will be 83 when his next mandate ends if he wins reelection.

That would make the Swiss a year older than his predecessor Jaoao Havelange was when the Brazilian relinquished the post 16 years ago.