'Players like Saina can excel whereever they play or under any coach - that could be me or Gopi, for 90 per cent of their success depends on their hard work.'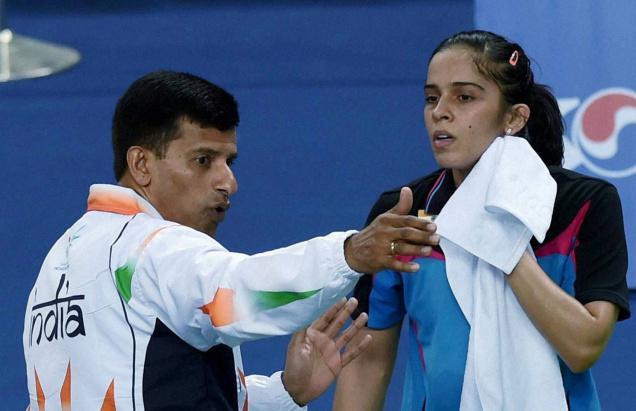 Saina Nehwal with former coach Vimal Kumar. Photograph: PTI
Vimal Kumar said he will miss working with Saina Nehwal but stressed it is important to support the Indian ace in her pursuit to excel at the highest level.

Three years after parting ways, Saina once again resumed her partnership with long-time mentor Pullela Gopichand and Vimal said he had a detailed discussion with the chief coach regarding her decision to shift base to Hyderabad.

"I spoke to Gopi yesterday. Gopi wanted to know whether myself and Saina had detailed discussion on shifting of her training base from Bengaluru to Hyderabad. We had a very clear understanding. The discussion was absolutely fine," Kumar said on Tuesday.

Asked if he would miss Saina, Kumar said: "It was good to have worked with a girl like Saina. Her work ethics, spirit and enthusiasm to train hard - these are Saina's qualities I would miss."

Kumar said training in Bengaluru has been tough for Saina because she was missing her father Harvir Singh, who has not been keeping well after he had underwent an operation for prostate gland enlargement.

The former national coach said he told Gopichand that they both need to provide whatever top players such as PV Sindhu and Saina require, for their emotions and feelings are different from other ordinary players.

"Saina and Sindhu are two best girls in the country at this point of time. So, we need to ensure that they are given whatever they want for now, especially Saina, for she has some more years left in her to do well," he said.

"The inner feelings and emotions of top athletes is different. They are constantly wanting to get better and better. So, we need to understand that and try not putting a break on to their enthusiasm."

Kumar has been instrumental in helping Saina achieve World No. 1 ranking in April 2015 and win a silver at the 2015 World Championship before suffering a knee injury ahead of Rio Olympics last year.

He said players like Saina would excel under any coach or academy, because 90 per cent of their success depends on their hard work.

"Players like Saina can excel whereever they play or under any coach - that could be me or Gopi, for 90 per cent of their success depends on their hard work," he said.

"We, as a coach, can only step in when a player is overdoing certain things."