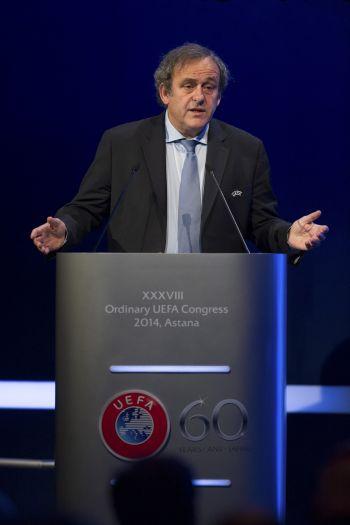 UEFA president Michel Platini ruled himself out of the running for the most powerful job in football on Thursday, saying he "could not convince himself" that opposing incumbent Sepp Blatter for the FIFA presidency was the right thing to do.
Instead, the former France international told a packed news conference in Monte Carlo that he would offer himself instead for re-election as UEFA president, a role he has held since 2007.
Platini, 59, had already told the chairman and general secretaries of UEFA's 54 member nations that he would not be standing against the 78-year-old Swiss, who is expected to seek a fifth term at the helm of the world governing body when the election is held next June.
The Frenchman said he had deliberated for months before deciding against standing, but still believed change was needed at FIFA and it was time Blatter went.
The Swiss has held the FIFA presidency since 1998 and has indicated he will stand again, despite criticism that the game and FIFA have been tarnished by allegations of corruption during his reign.
"I have thought long and hard about this over many months but I have never managed to convince myself that I had to go to FIFA. It's really that simple," said Platini of his decision. "My will is to run for a new term of office for the presidency of UEFA.
"I told the chairmen this morning this a choice from my heart, based on football and based on my passion," added Platini.
"We have big projects ahead at UEFA and I have the motivation to carry them out before one day moving on to something else, but now is not the time, or my time for FIFA, not yet."
Platini, who is a vice-president of FIFA and sits on the FIFA executive committee, said he had made his decision "without the slightest shadow of regret".
Image: Michel Platini
Photograph: Harold Cunningham/Getty Images for UEFA