Andrea Petkovic pulled off another upset at the Sony Ericsson Open on Tuesday, defeating sixth seed Jelena Jankovic to reach the semi-finals, while Kim Clijsters needed all her big-match experience just to stay in the tournament.
The German 21st seed, fresh from beating world number one Caroline Wozniacki a day earlier, continued to display her exciting promise with a 2-6, 6-2, 6-4 triumph over Serbian Jankovic.
In a fourth round match, world number two Clijsters staved off five match points before edging out Ana Ivanovic 7-6, 3-6, 7-6 to keep her title defence alive.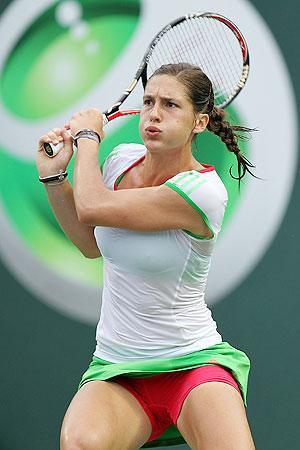 Russian Maria Sharapova emerged from a compelling three-hour 28 minute battle with Romanian Alexandra Dulgheru which ended 3-6, 7-6, 7-6.
With some gutsy play from the baseline, the energetic Petkovic turned things around in the second set, saving four break points with her improving serve.
Jankovic fought back in the third, building a 4-2 lead, but Petkovic reeled off four games in a row to finish it, including a thrilling seven-deuce final game.
The victory was the first time that Petkovic has beaten two top-ten opponents at the same tournament.
"I've just always believed in myself. I always believed that I can beat those top players. It was always just a matter of time," she told reporters.
"I just needed the time and the experience and the consistency."
Petkovic will face Sharapova after the 16th seed narrowly defeated a determined Dulgheru, who played some superb defensive tennis.
Sharapova had to receive medical attention shortly after breaking to go 5-4 up in third, a nasty turn of the ankle leaving her in clear pain.
The dogged Romanian then broke back and there were some tremendous rallies in the tie-break before Sharapova finally triumphed to set up a chance of revenge for her fourth round defeat to Petkovic at the Australian Open in January.
While the 23-year-old Petkovic celebrated her place in the final four with her trademark 'Petko Dance', Ivanovic was reduced to banging rackets after yet another reminder of the Serb's frequent inability to finish off matches.
The game, delayed by rain from Monday, was there for the taking at 5-1 when Ivanovic failed to convert four match points and she squandered another opportunity at 5-3 before losing the deciding tie-break.
"It is very hard to take, you should see my racquet," said Ivanovic, who had cried as she left the court.
"I really feel like I haven't done much wrong. I had my opportunities and she played some really good tennis.
"I stayed with her and I created the opportunities for myself but I am just very disappointed to lose like that," she said.