Korea's Ryu Seung-min upset Wang Hao to win gold in the men's singles final and disrupt China's domination of Olympic table tennis.
Ryu won 11-3, 9-11, 11-9, 11-9, 11-13, 11-9 in a thrilling final to become the first Korean to win the title since Yoo Nam-Kyu at Seoul in 1988, when the sport was included at the Olympics for the first time.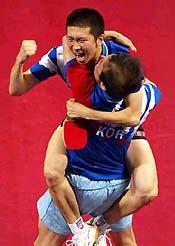 "It was a very good match," Ryu's coach Kim Taek-soo said. "Ryu's strokes against Wang Hao were very strong. Wang was very fast but not faster than us."
Earlier, world number one Wang Liqin won the bronze medal playoff against experienced Swede Jan-Ove Waldner, who was making his last appearance at the Olympics at age 38.
The Chinese won 10-12, 11-3, 11-8, 11-7, 11-9 to deny Waldner, who won gold in Barcelona and silver in Sydney, a full set of medals in his last appearance at the Olympics.
Waldner has been to all five Olympics where table tennis has been included but said Athens would be his last.
"It would have been fun to have won the bronze but life goes on," Waldner said. "I'm going to rest for a
while then start training again in September.
"I will compete at next year's world championships but I'm not going to take part in the 2008 Olympics."
Wang, the rising star of Chinese table tennis, was a strong favourite to win the final after beating Wang Liqin in the semi-finals but the 20-year-old was unable to repeat that performance on Monday.
"Wang Hao was under immense pressure to win," Chinese head coach Liu Guoliang said. "He had trouble returning Ryu's serves, which were extremely accurate."
The International Table Tennis Federation (ITTF), fearing China's domination was unhealthy for the sport, changed the rules in Athens so that players from the same country could not meet in the final.
ITTF president Adham Sharara said there would be more changes for Beijing, but denied they were being introduced to end Chinese domination.
"All the changes were made in order to render table tennis more attractive and more modern," Sharara said. "They were by no means against Chinese players."
"However, all are affected by the changes, especially those who are on top positions. Nevertheless, China is still prevailing therefore it must have got used to the changes."