Wrestler Sushil Kumar, who won a bronze medal at the 2008 Beijing Olympics and silver at the following Games in London, has signed up with Olympic Gold Quest, which will provide him training and financial assistance in his preparation for the 2016 Games in Rio de Janeiro, Brazil.
The only Indian athlete to win two individual Olympic medals, he will also be a special advisor to the OGQ Board on wrestling and help identify and support talented young wrestlers.
"OGQ has sports legends like Geet Sethi and Prakash Padukone at the helm and I am very honoured to be part of this team that is creating Olympic champions for India.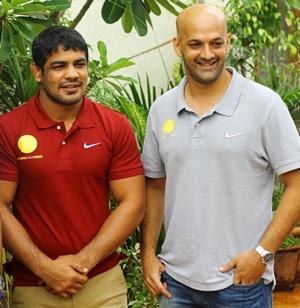 "My target is to win the gold medal at the Rio 2016 Olympics and I know that I need to work twice as hard and carefully plan my training schedule for the next three years," said Sushil, at a function, in Mumbai on Friday, to announce his association with OGQ.
"This is where I will require OGQ's support, with special focus on physiotherapy and medical support," added the wrestler, who also won a World championship in 2010.
Sushil is the second wrestler under the OGQ umbrella after Praveen Rana, who competes in the 74kg freestyle category.
Badminton legend and OGQ director Prakash Padukone believes OGQ can take Sushil's performance to the next level and help him win gold at the Rio Games.
"We are very lucky to have Sushil as an advisor on wrestling. He has more than a decade of experience and has inspired a new generation of young kids to take up wrestling and dream big," he said.
Olympic Gold Quest CEO and former Indian hockey ace Viren Rasquinha said, "Sushil is an icon and we are really excited to get the opportunity to work closely with him. I've watched him in training and his talent, intensity and enthusiasm even today after winning two Olympic medals shows what a wonderful role model he is. Wrestling is a contact sport and injuries are numerous. The world class medical team of OGQ will ensure that he remains injury-free and in peak fitness for Rio 2016."
OGQ supports the training and preparation of 50 sportspersons across seven individual Olympic disciplines viz. badminton, boxing, shooting, archery, wrestling, luge and athletics.
Image: Sushil Kumar (left) and Viren Rasquinha
Photograph: Hitesh Harisinghani