Goal-line technology could be used in some matches in a competition and not others following a decision taken by the International Board, soccer's law-making body, on Saturday.
A tweak clarifying the use of words in Law 11 on offside, detailing when an attacker is interfering with play or not, was adopted but a change to Law 8 regarding the re-start of a match for a dropped ball following a stoppage for injury was deferred for further study.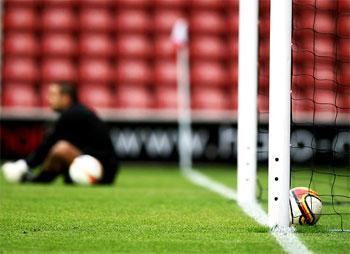 As for goal-line technology, the Board approved the use of images on giant screens and on TV of goal-line incidents and said it was up to the individual competition organisers to allow those images to be used in stadiums or not.
Competition organisers can now also determine whether to approve the use of goal-line technology in their own competitions, whether it be a domestic league or a cup competition, but not all matches in any particular competition have to use it.
"If goal-line technology exists in a stadium, there is no advantage to one side or the other and therefore if the technology exists and it has been switched on and agreed by the competition organisers then there is no reason why it can't be used," Stewart Regan, the chief executive of the Scottish FA which hosted Saturday's meeting, told a news conference.
"If it has been approved it will then be up to the individual club in consultation with the organisers or their league body to decide if it can be used."
INTERESTING CONFLICT
That notion throws up a potential interesting conflict that could arise in the future as many of Europe's richest clubs will have goal-line technology for their domestic matches but UEFA, under president Michel Platini, is staunchly opposed to its use in their competitions like the Champions League and Europa League. FIFA has said it will be used at the 2014 World Cup.
Jonathan Ford, the chief executive of the FA of Wales, told reporters: "The decision we made on goal-line technology is that there is no compulsion to use it, nor is there any prohibition.
"So we are opening up GLT to be used by competition organisers throughout the world if they think it is valuable and relevant for their competition."
On offside, the law has been changed to make it clear that a player is considered to be interfering with play if he challenges an opponent for the ball and is in an offside position.
An offside player is also considered to be gaining an advantage if the ball comes to him following a deliberate save by the opposing goalkeeper, but not from an opponent "who deliberately plays the ball".
Regan acknowledged the new wording was complex.
The other major decision made by the Board was regarding its own composition.
The Board, the game's ultimate law-making body, comprises four members from the British associations and four members from FIFA -- representing the rest of the world.
The last change to the Board's structure came 100 years ago when FIFA combined forces with the England, Scotland, Wales and Northern Ireland FAs to create an eight-man panel which needs a three-quarters majority to implement any law change.
Under the FIFA reform process there have been a number of suggestions that the IFAB membership should change, but it will now remain the same and is expected to be ratified in its current format by the FIFA Congress in Mauritius in May.
"To improve consultation however, IFAB has agreed to the formation of two new advisory panels: a technical panel comprising refereeing experts from across the globe, and a football panel, of approximately 20 former players, coaches and current coaches and technical directors who will advise on Board proposals," Regan said.
Photograph: Bryn Lennon/Getty Images