The International Cricket Council [ Images ] allocated $1.8 million to crisis-hit New Zealand [ Images ] as part of the Targeted Assistance and Performance Programme after the conclusion of its first Board meeting of the year in Dubai [ Images ].
"New Zealand Cricket has been allocated $1.8m, which represents $0.6m for each of the next three years from the ICC's [ Images ] Targeted Assistance and Performance Programme (TAPP) which is aimed at developing more competitive teams among Full Members and Associate/Affiliate Members," the ICC said in a statement.
The New Zealand Cricket initiative will focus on a programme of 'A' Team cricket and the development of coaching and sports science expertise.
New Zealand have been struggling of late internationally and their board has been dogged by controversies after the recent sacking of Ross Taylor [ Images ] as captain.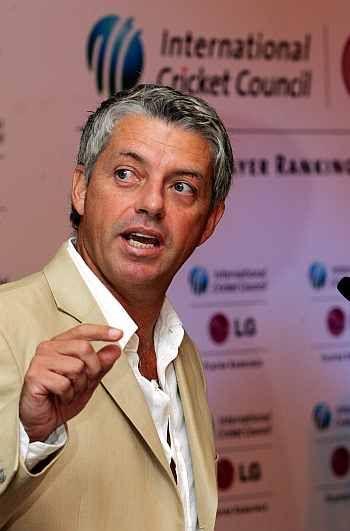 Besides, the ICC board considered the report of the chief executives' committee working group and agreed that domestic Twenty20 [ Images ] leagues can add to the game and further deliberations should be aimed at "the growth and sustainability of international cricket" by "attaining co-existence between domestic T20 leagues and the international game".
The Committee includes Sundar Raman (BCCI), James Sutherland (Cricket Australia [ Images ]), David Collier (England [ Images ] Cricket Board) and David White (New Zealand Cricket).
ICC chief executive David Richardson said the key lay in attaining balance between domestic and international cricket.
"Domestic Twenty20 leagues have provided so many opportunities for players and officials alike as well as entertaining large domestic crowds.
"A workable and balanced international playing calendar is key to the sustainability of the game. We also need to ensure that cricket is played in a corruption-free environment," he said.
"The ICC Anti-Corruption and Security Unit (ACSU) is doing some great work in this regard. All Boards should be complimented on the progress they have made in putting their own anti-corruption resources in place but this is only the first step", Richardson said.
"Effective implementation of appropriate programmes and processes together with the timely and effective investigation and prosecution of all reported incidents is also crucial," he added.
Among other things, the board unanimously agreed to continue to combat the legal, financial and practical issues facing Member Boards and the ICC in relation to 'online piracy' (illegal and unauthorised streaming of broadcast footage over the internet) and other intellectual property rights infringements.
Besides, the ICC Annual Conference will be held in London [ Images ] in June this yearfollowing the Champions Trophy [ Images ] which is being held in England and Wales.
For the ICC Annual Conference from 2014 to 2016, the ICC will invite expressions of interest from potential host cities.