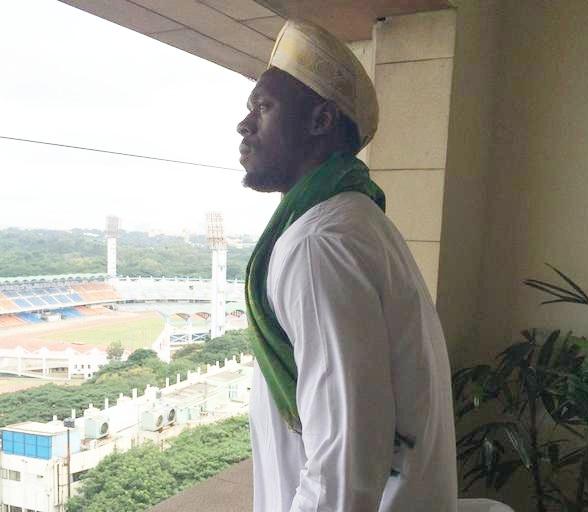 Usain Bolt. Photograph: Courtesy: Twitter
Laughing off questions on potential challengers, Jamaican sprint legend Usain Bolt turned on the charm offensive on his maiden trip to India, throwing humility out of the window to declare that his records are pretty much out of reach.
- First Look! Bolt lands in India...
- Sprint king Bolt challenges Yuvraj, Zaheer for a cricket match!
Bolt will play a seven-a-side exhibition match against a team that will have some of India's top cricketers.
The four-over match will be played with Team Bolt comprising his best friend Nugent Walker Junior and Indian spinner Harbhajan Singh among others.
The rival team will be led by all-rounder Yuvraj Singh, who will have long-time friend and renowned pacer Zaheer Khan among others in the team.
The face-off is titled 'Bolt and Yuvi – Battle of the Legends'.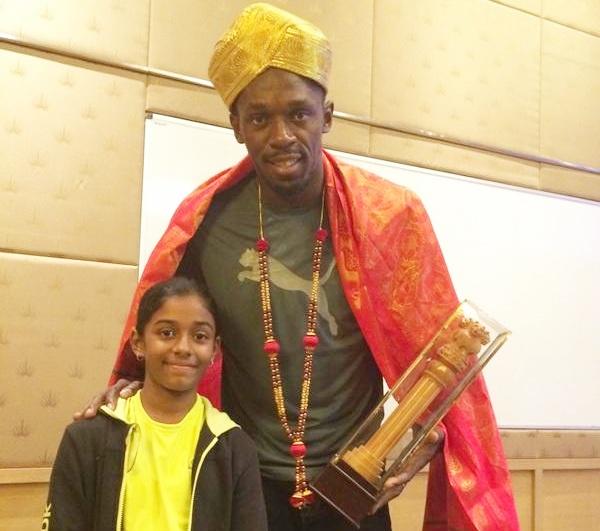 Usain Bolt with India's fastest junior 800m athlete. Photograph: Courtesy: Twitter
The imposing sprinter, the first man to hold both the 100 and 200 metres World records, was at his wittiest best while facing the media at a promotional event in Bangalore.
Asked if his 100 metres record of 9.58 seconds would ever be broken, Bolt replied with a straight face: "That's pretty much out of reach."
Amid a round of applause and some laughter, the 'Fastest man on earth' added that his rivals would have to work really hard to match his greatness.
"As an athlete I have seen records come and go. They have always been broken, but if you want to be as great as me you have to work very hard. That's why my records will stand the time," he said.
There was more to come when questions turned on whether he thought anybody among his contemporaries were good enough to beat him.
"Nobody," said Bolt, after chuckling at the question itself.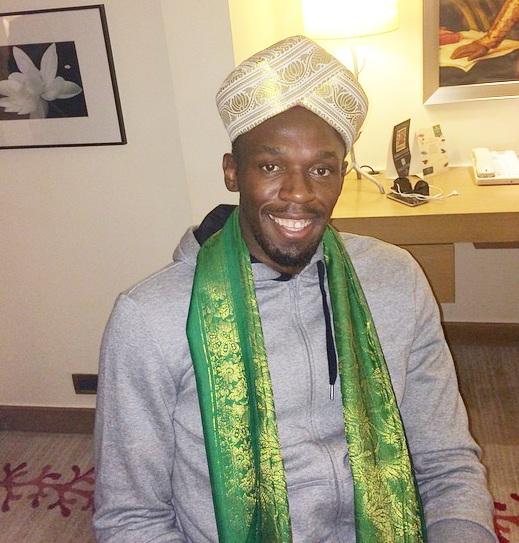 Usain Bolt. Photograph: Courtesy: Twitter
On a more serious note, he said: "Track and field is a weird sport. It's all about focus and mental capacity. It's hard to pick any one person but my coach thinks Justin Gatlin is good. Tyson Gay, Yohan Blake, so many guys are coming up. But I am not going to let anybody beat me!"
Cricket is his other passion. So, asked why he took up sprinting instead of the gentleman's game, Bolt shot back: "Blame it on my dad!"
"My father is a huge cricket fan... but when I got higher secondary, I had two options -- cricket or athletics. My dad said because of the system in Jamaica, it would be better to take up athletics. He said, you just have to run fast in athletics while it's tougher to get into the national (cricket) team."