A summary of sports events and sports persons, who made news on Monday
Thai 14-year-old becomes youngest Ladies European Tour winner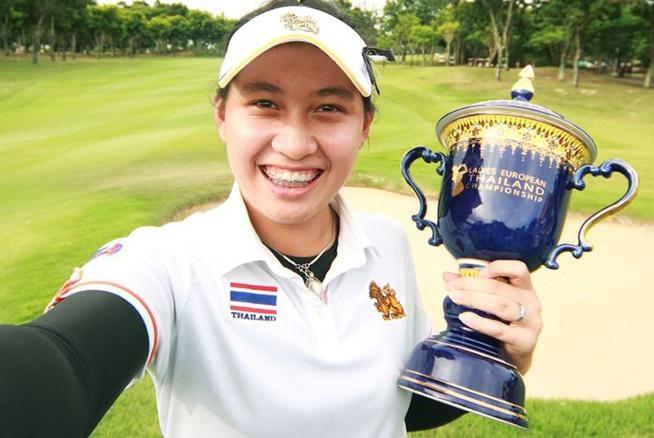 IMAGE: Atthaya Thitikul celebrates. Photograph: Twitter
A 14-year-old amateur from Thailand won on the Ladies European Tour on Sunday, supplanting Lydia Ko as the youngest champion on the circuit.
Atthaya Thitikul, aged 14 years, four months and 19 days, clinched a two-stroke victory at the Ladies European Thailand Championship at Phoenix Country Club in Pattaya.
New Zealander Ko held the previous record as the youngest winner on the tour, after claiming the 2013 New Zealand Open at the age of 15 years, nine months and 17 days.
Ko went on to become the world number one until being deposed last month by Ariya Jutanugarn of Thailand.
Thitikul said her caddie had kept her calm during the final round.
"I'm so happy and proud of myself," she said after finishing at five-under 283, according to the Ladies European Tour website.
"I did not look nervous, but of course I felt nerves on the first tee and on the first hole.
"My family do not play golf. When I was younger, aged six, my father told me to play sport and he offered tennis or golf and I watched golf on TV and I liked it."
Mo Farah 'sick' of doping allegations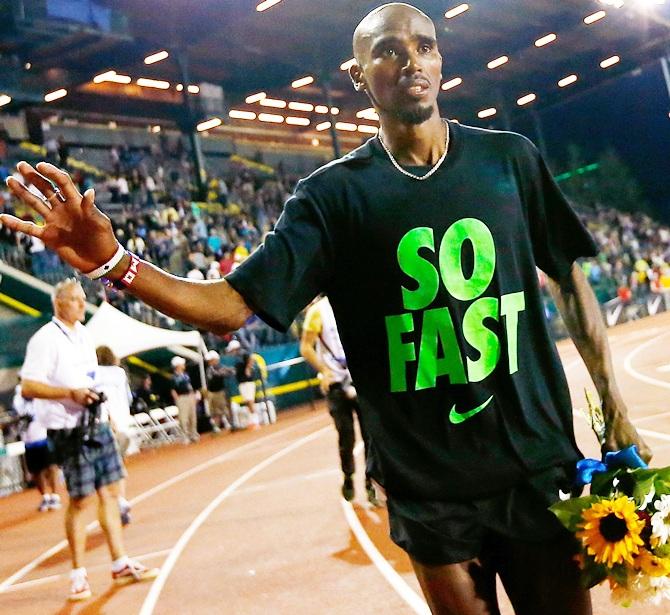 IMAGE: Great Britain's Mo Farah reacts. Photograph: Jonathan Ferrey/Getty Images
British Olympic champion Mo Farah is "sick" of his name being dragged into doping controversies, the 34-year-old said after winning the 3,000 metres at the Anniversary Games in London on Sunday.
Russian hackers leaked documents last week showing Farah was suspected of doping in 2015 before being cleared by the International Association of Athletics Federations (IAAF) in 2016, British media reported.
"I am sick of repeating myself and you guys just making something out of nothing," Farah told reporters on Sunday.
"I work hard at what I do and I just carry on enjoying what I do, and it comes as a little distraction...
"I said I will never fail a drugs test. That is who I am. I believe in clean sports and I just have to enjoy what I do, keep smiling. And let you guys do what you do.
"There's no secrets to what I do. My life is not as easy as people think, it is hard work. I wish you guys would understand it a bit more and write down the facts. I do what I do, keep smiling. I love you all."
Farah has fielded doping allegations repeatedly and the issue re-appeared in April after a doctor said that he injected a legal dose of a controversial substance prior to the 2014 London Marathon but it was not adequately recorded.
The long-distance runner said he would not be racing in the 1,500m event in Monaco and will instead go to an altitude training camp in Font Romeu, France to prepare for next month's world championships.
"The preparation is going well – I'm grafting and continuing to tick boxes," Farah said.
"Initially I was going to try and fit a 1500m race in between now and the World Championships, but this is my last race now.
"I'm going to Font Romeu tomorrow. I'll just knuckle down."
Farah had previously announced his plans of retiring from track events and focusing on marathons after the World Championships.
New contract is up to Vettel, says Ferrari boss
Ferrari have told Sebastian Vettel he just has to sign on the dotted line to stay with the Formula One glamour team next season.
The championship leader is out of contract at the end of the year but Ferrari chairman Sergio Marchionne set out his team's position at the Austrian Grand Prix.
"I made it very clear that if he wants to stay then we'll just renew it. It's up to him," Marchionne told reporters before Sunday's race.
Vettel has delayed contract talks to focus on the championship battle, saying there will be plenty of time over the summer, and any haggling is likely to be about money and the number of years.
The German, a four times world champion, moved 20 points clear of closest rival Lewis Hamilton after finishing runner-up to the Briton's Mercedes team mate Valtteri Bottas at the Red Bull Ring.
With the 20 round season approaching the halfway point at Silverstone next weekend, Vettel has won three races and it would probably have been four had he been given one more lap on Sunday.
As it was, he missed out by a mere 0.6 of a second.
Speaking to the Italian media afterwards, Marchionne said there was plenty to be happy about however.
"It was very close. We are there and our German friends know it," he said.
"They can feel us breathing down their necks but we will cut this little gap. I am much happier than I was in the past. The boys know we have started the job and we must carry it through to the end."
While Vettel leads the standings, champions Mercedes stretched their lead in the constructors' standings to 33 points and are 5-3 to Ferrari on wins.
But while Hamilton and Bottas have shared the spoils of victory, Vettel has been leading the charge for Ferrari with more than twice as many points as his Finnish team mate Kimi Raikkonen.
Vettel's only obvious alternative to the most successful team in Formula One history would be Mercedes, but the German has already laughed off rumours of that happening.
"I think the way we are set up right now, we find ourselves very happy and the focus is on this year despite the fact for next year there is nothing on paper," he said in May.
Mercedes non-executive chairman Niki Lauda has also dismissed a move.
"A Ferrari driver, his head is for Ferrari, and the money in the end is also there," he said.