India's bid to overturn the controversial ouster of 69kg boxing medal hope Vikas Krishan from the Olympics went in vain as the world governing body for the game rejected their appeal.
Stung by Vikas's ejection from the Olympics, despite winning his pre-quarter-final bout against Errol Spence of the United States, after a review, Indian boxing officials filed a protest with AIBA, which was thrown out.
"The appeal has been rejected and we cannot do anything now," a source in the Indian contingent said.
- London Olympics 2012 - Complete coverage
The appeal was filed after an emergency meeting of the team with Chef-de-Mission and Indian Boxing Federation secretary-general P K Muralidharan Raja.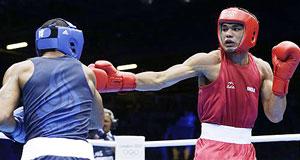 In a stunning turn of events, Vikas was ousted from the Games after the AIBA overturned the result of the bout he had won, following a review.
The 20-year-old had beaten Spence 13-11 in a thrilling contest on Friday but following an appeal by the US team management, the AIBA awarded the bout 15-13 to the American, citing the fouls committed by the Indian which were not noticed by the referee.
While agreeing that Vikas had gone into a clinch with his opponent, the Indians claimed that the American was equally guilty of the same offence.
National coach Gurbax Singh Sandhu said the Indians will challenge the observations made by the competition jury, which felt that Vikas should have been penalised four points for holding his opponent nine times and deliberately spitting out his gumshield during the bout.
"...our guy did not hold Spence for more than seven times. The American was guilty of holding Vikas four times according to us. As for spitting the gumshield, that may or may not be considered because the referee had failed to spot it during the bout," Sandhu said.
Photograph: Patrick Semansky/AP