India will appeal against the International Boxing Association's (AIBA) decision to overturn a result that cost welterweight boxer Vikas Krishan a quarter-final spot at the London Olympics, chef de mission P K M Raja said on Saturday.
- London Olympics 2012 - Complete coverage
World amateur bronze medallist Krishan originally won his bout against Errol Spence 13-11 but, after reviewing video footage, the AIBA declared the American the winner.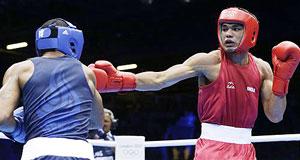 The governing body said its competition jury found Spence should have been awarded four additional points for fouls committed by the Indian.
"In our opinion, there have been fouls committed by the American boxer too and he should have been cautioned on the same note," Raja told CNN-IBN channel.
"We are working on it to submit our appeal against this particular reversal of the decision," added Raja, who is also the secretary of the Indian Boxing Federation.
Asked if it was too late to appeal now, Raja said: "No boxer starts protesting after winning a bout. Now that the decision has been reversed, we'd like to bring to their notice the other fouls which have been committed by the other boxer which have not been taken into consideration.
"We also have a right to be heard. I'm sure it (an appeal) would stand.
"We are going over the rules and preparing our reply... The team manager will hand over the protest officially."
Indian Olympic Association vice-president Tarlochan Singh said he felt the jury had been swayed by the Americans.
"(It) is visible that (the) jury has been influenced by the American lobby...this is a wrong decision," Singh told Reuters TV.
The decision had deprived India of a certain medal and the jury could have ordered a rematch, Singh said.