Paralympic Games is a shining example of courage and determination and athletes who competed in the London 2012 edition Games are an inspiration to the world, Commonwealth Secretary-General Kamalesh Sharma said.
Sharma expressed delight at the Commonwealth's strong showing at the just concluded Paralympic games.
-Girisha bags first Paralympic medal for India
The United Kingdom, Australia, South Africa and Canada topped the medal tallies among Commonwealth nations.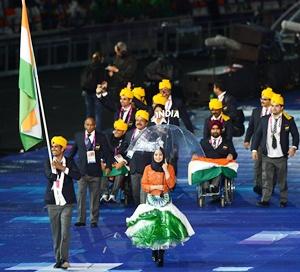 Host country United Kingdom led with 120 medals (34 gold, 43 silver, 43 bronze); Australia had 85 medals (32 gold, 23 silver, 30 bronze); South Africa won 29 medals (8 gold, 12 silver, 9 bronze); and Canada bagged 31 medals (7 gold, 15 silver, 9 bronze).
The Secretary-General was also encouraged by the performance of athletes from New Zealand (17 medals: 6 gold, 7 silver, 4 bronze), Nigeria (13 medals: 6 gold, 5 silver, 2 bronze) and Kenya (6 medals: 2 gold, 2 silver, 2 bronze). He noted the very impressive wins of Team Nigeria with Yakubu Adesokan, Esther Oyema and Joy Onaolapo setting world records in powerlifting.
He further highlighted the performances of the Jamaican athletic team with Alphanso Cunningham winning gold for javelin throw, and the first ever Paralympic medal by
Sri Lanka with Pradeep Sanjaya Uggl Dena Pathirannehelag winning a bronze in the 400m race. India's Girisha Hosanagara Nagarajegowda clinched a silver medal in high jump.
"The accomplishments of these amazing athletes are testimony to the ability of people with disabilities. What these courageous sportswomen and men did in the various arenas of the Paralympics is a statement of strength -- physical, mental and emotional strength.
"They have shattered barriers, and in doing so, not only breaking world records, but also achieving many personal bests in every sporting field," said Sharma.
The Secretary-General commended, among others, 17-year-old British swimmer, Ellie Simmonds, who won two gold medals in the 200m individual medley and the 400m freestyle competition. She also won a silver medal in the 100m freestyle, and a bronze in the 50m freestyle.
He described South Africa's Oscar Pistorius' win in the 400m race as 'inspiring,' noting that the 25-year-old's remarkable speed on the running blades showed the strength of determination to achieve a major feat on the athletics track.
Sharma also gave worthy kudos to Australian swimmer Jacqueline Freney for her overall victory, as she took home an impressive eight gold.
Photograph: Gareth Copley/Getty Images