There was an unusual calm in B S Narang's body language even as he was glued to the television set watching his son Gagan take aim for the final shot in the 10m Air Rifle event at the London Olympics.
As Gagan clinched India's first medal, a bronze, in this edition of the Olympics, you came to know from where the burly shooter inherited the composure that is required in a precision event like shooting.
- London Olympics 2012 - Complete coverage
"If he calls me, I will congratulate him and tell him to do well in the next two events. He still has two more events left on August 3 and 6 (50m Rifle 3-Position & 50m Rifle prone). He should concentrate on those two events," the senior Narang said as mediapersons jostled for some sound bytes at their residence in Hyderabad.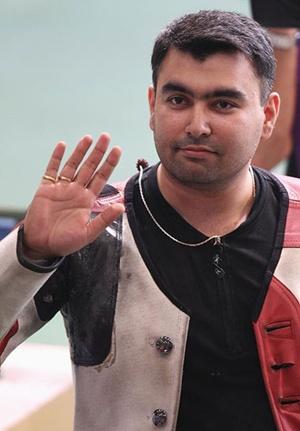 Narang senior did admit that the family expected Gagan to bring laurels to the country after the disappointment of Beijing four years ago where he failed to qualify for the final.
"It's a good achievement. Although we expected gold but this is also very good. It will certainly boost his morale for the remaining two events," he said.
Gagan's father admitted that there is always pressure to perform in big ticket events but it is something that comes as a package for professionals.
"In any sphere there is pressure and one needs to live with it. Even parents put pressure on their children."
The shooter's mother said they never put any undue pressure on their famous son.
"When he left for London, we just wished him 'All the best' and told him to give his best shot. We have never interfered in his training."
When a reporter asked what will she cook once Gagan returns from London, she replied, "Chole-puri is something he likes".