The disappointing show by Indian archers continued as Laishram Bombayla Devi bowed out in the pre-quarterfinals of the women's individual recurve event losing 2-6 to Mexico's Roman Aida at the Lord's at the London Olympics on Monday.
Bombayla had earlier won her first round encounter against Evangelia Psarra of Greece 6-4.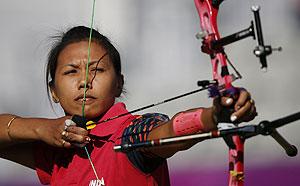 In individual events -- decided on best of five sets (three arrows each) -- one who wins a set irrespective of the margin gets two points.
The target score in the pre-quarterfinal match against Aida was 107-93 in favour of the Mexican. Bombayla missed the target altogether as she got a zero in the fourth set which turned out to be the decider.
It wasn't that the Mexican archer was in great form, it was just an inconsistent performance by Bombayla. After hitting five 10s in his first round encounter, Bombayla could only log 10 on two occasions compared to four times by her opponent.
Aida set the tone with a 30 in the first set along with 26 and 27 in the two other sets that she won.
Photograph: Suhaib Salem / Reuters