India's veteran tennis star Leander Paes has rejected the compromise formula of the All India Tennis Association (AITA) and decided to pull out of the 2012 Olympics in London, media reports said on Thursday.
Earlier in the day, the AITA claimed to have worked out a compromise formula to resolve the selection crisis for the Olympics by deciding to send two men's doubles teams for the event, pairing Paes with a lower-ranked Vishnu Vardhan, and combining Mahesh Bhupathi and Rohan Bopanna.
- Olympics: AITA decides to send two teams, pairs Paes with Vishnu
"Leander Paes and Vishnu Vardhan (ranked 207) and Mahesh Bhupathi and Rohan Bopanna will be the two teams. We request Leander to reverse to his thoughts and he should help Bopanna and Vishnu to succeed in their first Olympics," he added ending speculation of Paes being paired with Somdev Devvarman, who is recovering from a shoulder injury," AITA president Anil Khanna said.
However, Paes has communicated to the AITA after the announcement was made that he is unhappy with the decision of sending two teams which pairs him with a lower-ranked player and therefore has no option but to withdraw from the Olympics.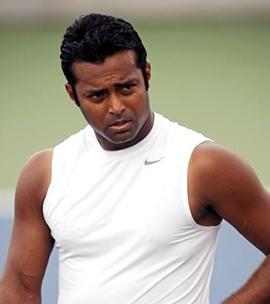 Paes, who won the bronze medal in the men's singles event at the 1996 Olympics in Atlanta, had written to the AITA on Wednesday he would withdraw from the London Games if they decide to send two teams.
"It would not be acceptable, if with my ranking as the best Indian tennis player, I give up the best option of partner for winning a medal for my country and am made to play the Olympics with a player ranked 207/306 in the world while the No 13 and No 15-ranked players form another team together based on their refusal to play with me.
"If this is the case then, for the sake of Indian tennis and to relieve the AITA in regards to the selection of the team, I have no other option but withdraw from the Olympics," he wrote, in a letter addressed to Bharat Oza, secretary-general of the AITA, on Wednesday.
Bopanna and Bhupathi had both rejected to be paired with Paes and said they wanted to play as a combination in London, an demand which was finally accepted by the AITA.
His father Olympian Vece Paes had also slammed the AITA's decision and said that his son may not agree to the men's doubles team selection for next month's Olympics.
"Leander has always compromised while playing for the country. I think now he is tired of doing that. I don't think Leander will agree with AITA's decision," the senior Paes told PTI.
"Leander will be disappointed with this decision. It is very unfair with him. He is a highly principled as well as an emotional man; so it is difficult to say which way he will go. Things have changed drastically over the past two days."
Also read:
- Enraged Paes threatens to pull out of London Olympics
- Bhupathi, Bopanna breaking agreement with AITA: Paes
- AITA's decision defies logic: Bhupathi to Maken
- Maken favours two teams, hints at Hesh-Bopanna pairing
- Bopanna tells AITA he won't partner Paes at Olympics
- Paes ready to play with Bhupathi at London Olympics
- Bhupathi lashes out at Paes, AITA after Olympics selection