The Indian Olympic Association (IOA) on Thursday slammed Mahesh Bhupathi and Rohan Bopanna for dictating terms to the All India Tennis Association (AITA) over selection of the team for the 2012 Olympics in London, saying no player should be allowed to have a "veto power".
"I don't want to name the players but no player should be allowed to have a sort of veto power in team selection," V K Malhotra, IOA acting president, said in clear reference to Bhupathi and Bopanna.
- Olympics: AITA decides to send two teams, pairs Paes with Vishnu
Bhupathi and Bopanna had written to the AITA that they would not play in the Olympics if they are not paired together. The AITA, who had earlier picked Leander Paes and Bhupathi for the Olympics, had to reverse its decision and decide to send two teams with the former teaming up with lower-ranked Vishnu Vardhan.
Malhotra also criticised the AITA for buckling under pressure from players, saying that the decision to send two men's doubles teams for the Olympics can set bad precedent for other federations.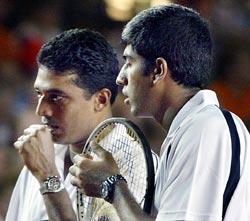 "AITA should not have entertained their (Bhupathi and Bopanna's) threats," said Malhotra.
"Today's decision has the potential to set precedents for other federations. It's the function of federations to pick player. The IOA also does not interfere in this. And the players cannot dictate terms on the federations. I hope today's decision does not set a precedent which if happens will be certainly bad for Indian sports," he said.
He also feels that Leander pairing up with Vardhan and Bhupathi and Bopanna teaming up can cost India dear in the medals prospect.
"Of course, it will have impact on India's medal hopes," he said.
Also read:
- Enraged Paes threatens to pull out of London Olympics
- Bhupathi, Bopanna breaking agreement with AITA: Paes
- AITA's decision defies logic: Bhupathi to Maken
- Maken favours two teams, hints at Hesh-Bopanna pairing
- Bopanna tells AITA he won't partner Paes at Olympics
- Paes ready to play with Bhupathi at London Olympics
- Bhupathi lashes out at Paes, AITA after Olympics selection