West Bengal sports minister Madan Mitra on Thursday said that the world's most popular football club Manchester United are keen to set up an academy in Kolkata and develop tourism ties with the state.
Mitra, along with All India Football Federation (AIFF) vice-president Subrata Dutta and IFA secretary Utpal Ganguly, on Wednesday had an hour-long video conference with Manchester United global sales head Raffaella Valentino.
"She said the team were looking forward to visit Kolkata. Their main interest is to set up an academy here. They also want to develop tourism," Mitra said.
The video-conference was organised by a Bangalore-based sports management firm in connection with the proposed friendly clash between Manchester United and Juventus.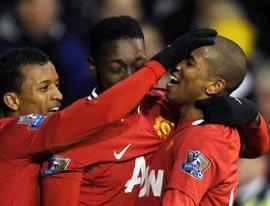 "The match is very much on. But, we are working out on a date. We want to hold it by August end or in November -- after the Puja festivities," Mitra said.
As per the AIFF rules, a permission has to be taken at least two and half months in advance to hold any international friendly in the country.
A top official of the sports management firm said Man United had already confirmed of the match but they are working out on a suitable date.
He further said that they have a plan B in place in which case they would organise a Legends XI match against Juventus if Man United decided not to come to India.
"The legends XI will have former stars like Fabio Cannavaro, Luis Figo, Hernan Crespo among others. But we are very hopeful of Man United match and academy here," the official said.