Real Madrid star Cristiano Ronaldo has set a new record after he became the fastest player to reach 100 goals in the Spanish league.
The record comes only after three days of Barcelona's Lionel Messi becoming their all time highest scorer, The Daily Mail reports.
Ronaldo surpassed former record-holder and Madrid great Ferenc Puskas on Saturday when he scored a brace in Madrid's 5-1 thrashing of Real Sociedad at Santiago Bernabeu Stadium.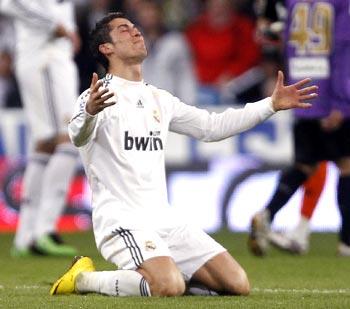 He has now taken his tally to 101 goals in 92 league matches, whereas Puskas had taken 105 matches to score his first 100 goals.
The former Manchester United player Ronaldo is primed to have his best season ever for Madrid with 45 goals in all competitions so far.
After an 80 million pound move from Manchester United to Madrid in the summer of 2009, Ronaldo scored 26 league goals in his first season.
Guardiola won't take Chelsea job due to Mourinho
Meanwhile former England manager Terry Venables has said Barcelona manager Pep Guardiola wouldn't take the vacant position at Chelsea due to one man (Jose Mourinho).
Venables believes the fact that Mourinho's Real Madrid is set on course to win the Spanish La Liga this season would bother Guardiola the most, even if he wins the Champions League for the third time in his tenure.
Guardiola wouldn't like to leave Barcelona after they surrender their title to Real Madrid since he has a fighter personality, according to Venables.
"He is only 41 and he will need a new challenge in the not-too-distant future. A Premier League club would be the next obvious mountain. But I also believe Guardiola would want to bow out at Barcelona at the top. Of Europe. Of the world. And, most importantly, of La Liga," Venables wrote in his column for the Sun.
"They are currently second to Mourinho's Real Madrid, who look on course to finish as champions. If that happens, I cannot see Guardiola turning his back on Barcelona, even if they beat their El Classico rivals to win the Champions League," he added.
"Guardiola is a natural competitor as well as a super-natural coach. He'd surely not want to walk away after losing his La Liga crown," he said.
Venables said the other reason why Mourinho would be a stumbling block for Guardiola to join Chelsea is the fact that most of the managers at Chelsea have lived under the shadow of Mourinho, who brought so many laurels to the club.
Whether it is Avram Grant, Phil Scolari, Carlo Ancelotti or Andre Villas-Boas, all of these were fired because they couldn't take Chelsea to the heights where Mourinho took them, and comparison with him would be palpable.
"Avram Grant, Big Phil Scolari, Carlo Ancelotti and Andre Villas-Boas were all shown the door at Stamford Bridge arguably because they could not hold a candle to their predecessor. It is ironic then Mourinho could now scupper the appointment of Guardiola as the Blues' next boss. How? Let me explain," Venables said.