Real Madrid defender Pepe was handed a two-match ban on Friday for insulting the referee after the 1-1 La Liga draw at Villarreal.
Sergio Ramos, however, had one of his two yellow cards from Wednesday's match overturned by the Spanish football federation's competition committee and will be free to play when the leaders host Real Sociedad in the league on Saturday.
Coach Jose Mourinho and Germany midfielder Mesut Ozil were sent off after Villarreal snatched a late equaliser and received the standard one-match suspension.
Mourinho's assistant Rui Faria was given a two-game ban after being ordered from the dugout midway through the second half at the Madrigal. It was his fourth sending off this season.
Real lost their composure after conceding a free kick on the edge of the area on Wednesday which allowed Villarreal's Marcos Senna to strike an equaliser in the 82nd minute.
Mourinho was sent off for leaving his technical area and complaining to the referee after the goal. A minute later Ramos picked up his second yellow card for clattering into Nilmar.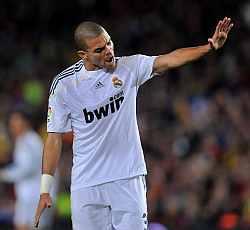 The federation said Ramos's first yellow card had been overturned due to an error in referee Jose Luis Paradas Romero's match report.
Ozil was also sent off with a straight red card after he ironically applauded Paradas Romero's decision to dismiss Ramos.
The official match report said Pepe accosted the referee in the tunnel afterwards and accused him of "robbery".
The federation also said a formal complaint from the referees' committee against comments Barcelona defender Gerard Pique made after being sent off against Sporting Gijon earlier this month would be shelved.
After the win over Sporting, Pique was quoted in local media as saying that the referee's decision looked to have been pre-meditated.
Real Madrid have seen their lead at the top of the standings cut from 10 points to six in the space of a week after consecutive draws against Malaga and Villarreal.
Second-placed Barcelona can close in further on Saturday if they can win at Real Mallorca, with their game kicking off two hours before Real's.