Terming the IOA-IOC saga as a turning point, Union Minister for Youth Affairs & Sports Jitendra Singh said the entire episode is a blessing in disguise for Indian sport.
"It's a good thing… whatever has happened with the IOC. Even though we were at the receiving end of it, it's a great thing that has happened to Indian sport," said Singh, on the sidelines of boxing ace Mary Kom's book launch in Delhi on Friday.
His comments came in the wake of the Indian Olympic Association amending its constitution to bar charge-framed persons from contesting elections, which opened the door for India's reinstatement to the Olympic fold.
Quizzed about the possibility of a back-door entry of tainted officials, Singh assured that after the elections there will be no looking back.
"Any person with a criminal background cannot contest IOA elections, which is a great thing. Earlier, they could contest because of the escape route provided by the ethics committee, but that door is shut now," he said.
"The IOA ethics commission cannot decide on the corruption charges. Only a court can do that. This is a great thing, India has paid a price for this, but something really good has happened for Indian sport," he added.
IOC president Thomas Bach had said that in order for the Olympic ban to be lifted, free and transparent elections needed to be staged, but until that happens Indian athletes qualified for the 2014 Sochi Olympics will not be affected.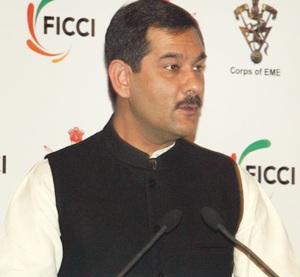 It the elections are held before the February 7-23 Winter Games and the IOA meets the IOC's guidelines the country's athletes will be able to compete under the Indian flag.
"We have discussed the issue in the meeting yesterday and I'm trying my best to ensure that elections are held before February 7," said Singh.
He also informed that the government has almost finished working on the Sports Development Bill and it will be introduced in Parliament soon.
"The government is working on a finalised Sports Development Bill. It is more or less finished and, hopefully, we will be able to introduce the bill soon," said Singh.
Asked about the Supreme Court's view of having sportspersons at helm in various sports bodies, Singh replied, "We too want to ensure that sportspersons play a key role in administration of sports... that is why we will include an athlete's commission in the bill."
The Supreme Court had said only sportsmen, not businessmen, should head sports bodies.
'Politics has taken the game of hockey to an abysmal low. Earlier India used to win gold medals but now we are struggling to qualify. Sports bodies should be headed by sports-persons, not by businessmen,' the apex court said.