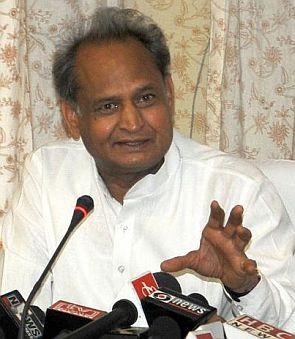 Our campaign was overshadowed by the falsehood and rumours that the BJP spread, former Rajasthan chief minister Ashok Gehlot tells PB Chandra in an interview.
After experiencing a crushing defeat, the worst in the state's electoral history, Rajasthan's former chief minister Ashok Gehlot looked calm and composed. He was speaking on the mobile phone to the Congress party's leadership in New Delhi who wanted to know the reasons for such a dismal performance.
Gehlot admitted that the Bharatiya Janata Party marketed its prime ministerial candidate Narendra Modi very well and as a salesman Modi managed to sell his national agenda during the election campaign in Rajasthan, while the Congress could not tell the people what it did for them through its various social security schemes.
Gehlot said the BJP was successful in shielding "the good points of our government". "The BJP made sure that people should not know or understand what we did for the poor. They were talking of price rise and calling our free medicine schemes 'poison'. They did not talk of governance and made the Vidhan Sabha election look like a Lok Sabha one where the issues are always different."
The Congress's losing candidates had lined up to meet him in his official bungalow at Jaipur's Civil Lines and he consoled them, urging them not to lose hope. He told them to shed their inhibitions and try and work for the party from the very next day. "Never think that you enjoyed power and instead go back to the people and work with them," he tells them.
As the adverse electoral results poured in on Sunday it did not take Gehlot much time to meet the governor and submit his resignation as chief minister. Now he has asked his personal staff to vacate the CM's official residence. As a former CM he is entitled to a ministerial bungalow in Civil Lines, where he would be provided with a skeleton staff along with an official car and security.
Gehlot knows nothing about his future course of action. In 2003, when he lost power to the BJP, he was made an AICC general secretary and moved to New Delhi, but he managed to keep in touch with his home state.
Gehlot took time off to speak to PB Chandra. An excerpt:
Such a massive and crushing defeat! How and why do you think it happened?
My feedback was the people voted for the Congress because it gave a lot to the poor through social security schemes. But there was an undercurrent, and this undercurrent was of falsehood. This undercurrent was of rumours and undermined the achievements of our government. Rather than speaking about good and effective schemes the BJP talked about price rise and rise in the price of petrol and diesel over which we had no control. It was a slur campaign that they carried out successfully against us.
So you think the BJP never allowed the development agenda to click and engaged people in other issues?
Yes, they deliberately did it because they knew that they would not be able to compete on the issue of development and good governance.
But how is it that the Congress could not sell its good governance to the electorate?
Our campaign was overshadowed by the falsehood and rumours that the BJP spread.
But do you agree that it was the Modi factor that caused this huge defeat?
There was the price rise factor also. There is a Congress-led coalition at the Centre and so the blame also comes to the Congress.
Do you think there was something wrong with your ticket disbursement?
This is nothing new. I alone was not involved in the disbursement. Every party makes mistakes and selects the wrong person. This is nothing new.
Do you think Rahul Gandhi is a poor campaigner?
Who said this? Both Soniaji and Rahulji attracted big crowds and the people responded also. People saw the live telecast also. Campaign is different from seats won. All campaigns are not the same. Every party goes for campaign, do they always win? It is the people's commonsense that makes them think.
Do you think it was not Vasundhara Raje's but Modi's victory?
I don't know about that but she was the second fiddle. She used Modi effectively.
Do you think CP Joshi, Jitendra Singh, Sis ram Ola and others played spoilers and bungled in ticket disbursement?
As the chief minister I own up responsibility for the defeat.
What is your personal plan? Would you be in state politics or will you be spending more time in Delhi?
That's up to the party high command to decide. I shall abide by that.