India's H S Prannoy caused the biggest upset of the Yonex Sunrise India Open Super Series, beating former world No 1 Taufik Hidayat in straight games to enter the third round of the men's singles, in New Delhi, on Thursday.
P V Sindhu also progressed. She came from behind to win her second round women's singles match against Yu Sun of China 19-21, 21-19, 21-15 in 68 minutes.
The day, however, belonged to Prannoy, who surprisingly dominated proceedings to beat his fancied opponent 26-24, 21-9 in 40 minutes.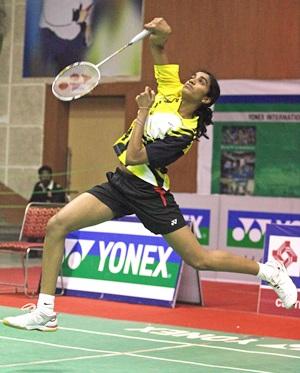 Prannoy did not have the best of starts; he was behind in the opening game and always played catch-up. But the unseeded Indian levelled scores at 16-16, and from there on it was a hard-fought battle against the experienced Indonesian.
The scores ran neck and neck till 23-23 before the Indian won two points to seal the first game.
In the second, Prannoy opened up a 10-3 lead and was always in command.
The opening game in the Sindhu-Sun match was close, even as the Chinese maintained a slight lead.
At one stage they were tied 17-17, but three straight points by Sun allowed her to take it to 20-17. Sindhu saved two match-points before losing the game 19-21.
In the second, Sindhu was behind throughout and down 13-18, but she upped the ante and won five straight points to draw level at 18.
With the score 19-all, the Indian girl went for the kill and sealed the game 21-19.
The decider was rather easy for Sindhu. After being tied 11-11, she simply surged ahead and wrapped it up.
"In the second game I was totally down 14-18, but then I gained some points in a row and was back. I am happy to have won," said Sindhu after the match.
She said it was a bit difficult as her opponent tried to slow down the pace.
"We were mostly playing the net because there was drift and shots were going out a lot. We have similar type of game, because she is almost as tall as I am. But she was taking too much time and also changing the shuttle too often.
"I didn't let her change it in the second or third game because the shuttle was fine. There was no need to change it," she explained.