Abu Dhabi has asked for an increase in seat capacity post Jet-Etihad deal. If Indian government agrees, more fliers will use Etihad than Air India. This will spell disaster for the country's national carrier.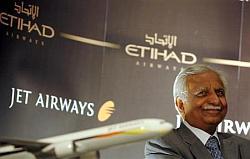 Morning newspapers in India are dominated by news of Etihad Airways purchase of a 24 per cent stake in Jet airways for Rs 2,060 crore.

Jet's founder Naresh Goyal has been credited for making Jet India's biggest airline in terms of market share. Jet Airways market value is pegged at Rs 8,574 crore.

"It's a game-changing opportunity for Etihad, and a game-changing opportunity for India," Kapil Kaul, regional head of the Centre for Asia Pacific Aviation (CAPA), told new agencies.

Is it true? Is this FDI deal really good for civil aviation sector? Dinesh Trivedi, former railway minister and pilot by training completely disagrees with Jet and Etihad's claims.

He told Rediff.com that the deal will in effect a silent burial for Indian Airlines.

At cost of New Delhi, a truly busy hub will be created at Abu Dhabi. On knowing about the first of it's kind deal, on 20 April, he dashed off a letter to Prime Minister Manmohan Singh. Here is the copy.

To,

The Hon'ble Prime Minister

Respected Prime Minister Sir,

I write this with a sense of concern and sadness, looking at the bleak future of our national carrier Air India.

I am sure you will agree with me that our national carriers, erstwhile Indian Airlines and Air India have so far stood the test of time in spite of going through so much of turbulence on and off and have provided tremendous national service.

Air India has the best of professional people and staff. In spite of that the present condition of Air India has been brought to this state of affairs because of faulty policies of the subsequent Governments.

Civil aviation is a very important industry in the world and every country protects its national carrier and its interest, be it airlines or airports.

It is a well-known fact and duly commented by various auditors of Air India that lucrative routes of Air India were generously given away to other foreign carriers on bilateral agreements resulting in huge national loss.

I am writing to you to bring an urgent matter that will have a profound impact on the future of Air India, our national carrier.

I understand from recent newspaper reports that the Government is holding bilateral civil aviation consultations with Abu Dhabi next week, and that the purpose of these talks is to enhance exponentially the number of flights that Etihad Airways, the national airline of Abu Dhabi, can operate to and from India.

I also understand, from various sources, that the demands of the Abu Dhabi Government are being tacitly supported by one of the private airlines of India as they have asked for the seat capacity to be increased by an additional 40,000 seats per week, to support a similar demand by Abu Dhabi.

If such an increase is allowed to happen, the total seat entitlement between India and Abu Dhabi will go up to a whopping 110,000 seats per week.

I wish to place the above demands of Abu Dhabi in the context of the overall flight capacity scenario that exists between India and UAE, of which Abu Dhabi is a part.

I understand that air service access and capacity entitlements are typically defined at a country level, that is, between India on one hand and other countries as a whole on the other.

Accordingly, India has exchanged air access and capacity rights with more than 100 countries.

UAE however seems to have been accorded a special status as India has exchanged access and capacity rights with each Emirate of the UAE, viz., Dubai, Sharjah, Abu Dhabi and Ras Al Khaimah.

The creation of Emirate's specific capacity entitlements, coupled with unbridled access to all major cities in India for the airlines of the UAE, has already resulted in Dubai establishing itself as the primary hub for Indian traffic.

Already Emirates Airline is being called the "national airline" of India, as it operates more flights and carries more passengers to and from India than Air India, our national carrier.

More than 70 per cent of the passengers carried by Emirates Airlines however travel to points beyond Dubai, on Emirates' network.

Now, Abu Dhabi is also keen to emulate the success of Dubai and Emirates Airline, and is keen to establish Abu Dhabi as another hub airport on the back of Etihad Airways, and for this reason is aggressively seeking an increase in capacity entitlements.

Already, India is struggling to create a world-class hub at Delhi, faced as it is with competition from airports like Dubai and Doha in the Gulf and Bangkok,
Hong Kong and Singapore in South East Asia and despite leading airports like Delhi and Mumbai having been privatised.
While Delhi and other private airports along with the Government of India have made huge investments in upgrading infrastructure and building new, world-class terminals, they are hampered by the competition posed by these well-established hubs and their aggressive mega carriers.
Allowing Abu Dhabi to come up as another hub which is only about three hours flight away from the major Indian metros will kill all aspirations that we may nurture as a nation, to establish a world class hub.
The establishment of hubs not only needs time, it also needs a home carrier with a critical size to be able to support the hub to blossom.
It is only of late that Air India has laid down a clear hub strategy with Delhi as its chosen hub, which needs to be given time to bear fruit.
In the case of Delhi and Air India, by allowing another hub to emerge at Abu Dhabi, we are denying them both the time they need as well as the ability to acquire the required critical mass for Air India to emerge as a network airline and for Delhi to emerge as a hub that can compete with other hubs in the neighbourhood of India.
The other, more important impact will be that on Air India. Air India is already struggling to service its massive aircraft order, as Indian passengers prefer to travel via the foreign hubs that we have allowed to be created to serve the Indian market.
As a result, the Government has been forced to bail out Air India, and Rs. 30,000 crores of taxpayer's money is being pumped into Air India to keep it afloat and to give it the time it needs to get its act together (signs of certain turnaround is already visible).
But Sir, instead of giving Air India the time it needs to consolidate as well as expand its network to more points, and to develop Delhi as its hub, the proposal of the Government to enhance Abu Dhabi's entitlements will only hasten its demise or the Government will be forced to pump in more and more money into Air India to keep it afloat.
You will also kindly recall the adverse comments of the CAG with regard to the increase in entitlements for foreign airlines, and holding this single act as being largely responsible for Air India's current predicament.
Also, by allowing more hubs that will service the Indian international travel market to come up, we will be denying Air India the ability to establish direct services to long haul destinations with the B787 Dreamliner that they have ordered for this very purpose.
I have in fact learnt that at a meeting held this week, at the Civil Aviation Ministry to discuss the planned enhancement, Air India have categorically stated that they will be forced to withdraw direct flights to Europe and USA if the increase goes through.
Parallels can be drawn with the fact that Air India has in fact shrunk its network over the years, in tandem with the growth of hub airports such as Dubai, Doha, Singapore, Bangkok, Hong Kong and others - having withdrawn operations from Rome, Sydney, Melbourne, Perth, Geneva, Amsterdam, Zurich, Los Angeles, Washington, Birmingham, and other destinations.
Surely if we support the development of more and more hubs outside India, Air India will one day shrink and die, and thousands of crores of taxpayer's money will have gone down the drain, not to mention the investment of thousands of crores made by private enterprise along with the Government in developing world class airports in Delhi and other major metros, which will also go waste.
I therefore urge you Sir, to kindly intervene and keep these talks in abeyance. If the Government is however constrained to hold the planned civil aviation consultations with Abu Dhabi, we should offer them only a token increase in capacity entitlements.
Governments the world over work to protect as well as further the interests of their airlines, and in my humble opinion, our reasons can be explained to Abu Dhabi and will be understood and taken in the right spirit by them.
Therefore may I request you once again to have the matter re-examined before proceeding any further.
I am sure you are aware that as per the media reports, all the stakeholders in India who have invested their resources in Indian aviation and have shown their confidence in Indian economy will not only be adversely affected by this but may also have to close their business resulting in a massive unemployment in this industry.
I am sure if this agreement gets the Government confirmation then Air India will certainly perish for no fault of theirs and taxpayer's money invested in Air India would be lost creating a private monopoly of a foreign airline which is not desirable by any nation.
Given your sense of patriotism and expertise in the area of economics, you will certainly appreciate the gravity of the situation.
Thanking you,
With kind regards,
Dinesh Trivedi