Dempo Sports Club and Salgaocar SC did everything except score in goalless but entertaining Goa derby in the 17th round I-League encounter at the Nehru Stadium, Fatorda, Goa, on Sunday.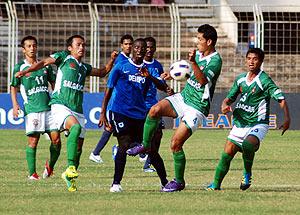 In a match where both teams were looking to grab a win and bolster their respective positions, there was plenty of excitement, end to end action but the final touch at either end was woefully missing.
The goalless draw did neither teams any harm, though. While Dempo now enjoy a three point lead over second-placed East Bengal at the top of the table, Salgaocar continued their progression and are now unbeaten in eight matches, six of which they have won.
Salgaocar started aggressively and played to a plan. They kept the ball for long spells and frustrated their rivals, forcing them to make mistakes. Salgaocar striker Ryuji Sueoka was the recipient of two of the best chances at the start but the Japanese striker could not make that count.
Dempo were creating their own chances to. Nigerian striker Ranty Martins in particular was off colour as he failed to give finishing touches to a couple of gilt-edge chances. The first was in the first session where Trinidad and Tobago midfielder picked him with a through ball but Ranty shockingly shot wide with only the goalkeeper begging for mercy.
Salgaocar were not as good in the second session as the first but they could have still wrapped up full points had Dempo goalkeeper Subhashish Roy Chowdhury not got his hand, and body, to a fierce long ranger from Chidi.
Dempo now have 37 points from 17matches while Salgaocar have 29 points from 17 outings.
Subhashish Roy Chowdhury of Dempo was adjudged Man-of-the-match.